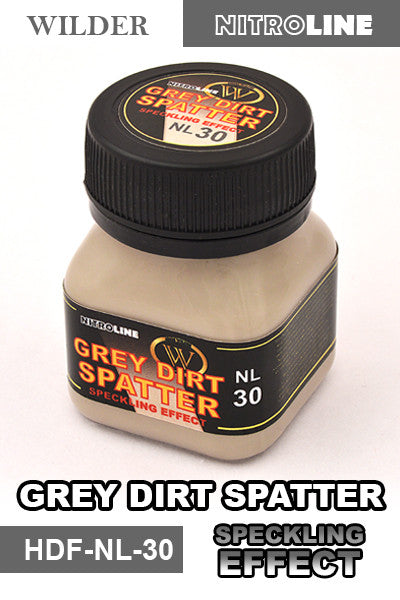 Wilder GREY DIRT SPATTER SPECKLING EFFECT 50 ml | HDF-NL-30
$ 5.60
SKU: HDF-NL-30
Speckling can play a major role throughout the different weathering processes needed to finish a model. It involves flicking fine amounts of paint specks onto a surface using a stiff-bristled brush. Speckling can be used for a variety of purposes over most types of paints. It can enhance chipping effects and rust tones.
Speckling is also a great means for creating earth effects such as mud spatter on the lower running gear of vehicles. If you apply too much of the effect quickly wipe it away using the brush dampened with enamel thinner. You can use Wilder Speckling effects straight from the bottle or dilute them to obtain less opaque specs of rust and earth tones. Use in conjunction with other weathering tones from the NitroLine for more authentic results.
This common brown mud tone is good for quickly improving the realism of weathering effects on vehicles with lighter finishes such as German ochre for example.