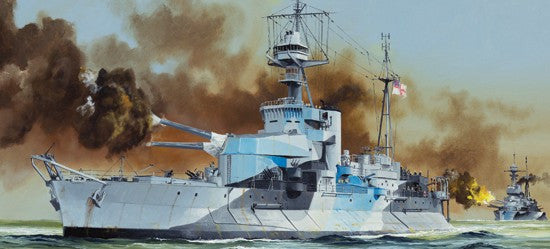 Trumpeter 1/350 HMS Roberts Monitor | TRUM05335
$ 59.49
SKU: TRUM05335
Roberts class-HMS Roberts the first ship on the design blueprint from his predecessors "dark circles class". HMS Roberts on the use of main guns of 381 mm caliber 42 times Mark-I mo turret, is the same time queen Elizabeth class and hood and the main gun derived type.The ship also prepared the 4 seat double 102 mm 45 times diameter "MK-V" dual rapid-fire guns, British 40 mm 2 pounds " pom-pom " cannon and American "Oerlikon 20 mm cannon".
It's features is the Roberts class destroyers hull waterline near mustered a huge torpedo compartment, accounting for about 3/5 of the total length of the hull, the compartment to improve driving stability, reduce the depth and improve underwater protection has important significance.
The ship during World War II, participated in the "Torch" action, "avalanche" action, the Normandy landings and a series of allied fire support missions, the allied army is valid and reliable.