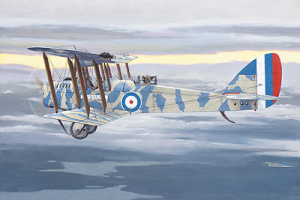 Roden 1/48 de Havilland DH4 w/RAF3a engine | 432
$ 30.39
SKU: ROD432
In 1916 the British aircraft manufacturer Airco, led by the renowned designer Geoffrey de Havilland, developed a new two-seat multipurpose aircraft, renowned in the history of aviation as the de Havilland DH4. The aircraft had superlative technical specifications and performancefor the time, and it was immediately passed for series production. Apart from the Airco concern, licensed production of new machines soon began soon in other manufacturing facilities, involving such firms as Westland, Glendower, Palladium, Vulcan and more.
Problems with the reliability of the Beardmore engine and its supply in sufficient quantity for the orders received, led to the need to find alternative power plants. The most convenient and suitable for a quick exchange was the Rolls Royce Eagle engine, but it was not available in the quantities required by the aircraft manufacturers. In this situation, the best course was to fit yet other types of engines in the DH4. The best candidates for fitting to the aircraft's structure were the Siddeley Puma and the RAF3a. In comparison with other engines, the RAF3a was more demanding but had certain advantages; notably, it allowed the plane to reach higher altitudes. This capability permitted use of the RAF3a DH4 in squadrons whose main task was high altitude photo reconnaissance, and interception of German Zeppelins, which continued to conduct raids over England at relatively high altitudes. At least two machines, A7457 and A7459, received additional armament (two machine guns over the upper wing), special high-altitude camouflage, and were transferred to the RNAS from the RFC's 55 Squadron. They performed maritime photoreconnaissance and took part in the interception of Zeppelins, together with other types of aircraft, which became the basis of the newly created Home Defence. They were later used in experiments involving fitting special equipment to aircraft for safe splashdown in case of emergency during flight over water.
Overall, the DH4's with the RAF3a were relatively less popular than their 'relatives' with other engines. The exacting nature of military service greatly tested the reliability of machines, and this sometimes led to the return to factories for recycling of more than half of newly delivered aircraft. Service pilots in their reports drew the authorities' attention to the fact that "flying the RAF3a DH4 is often associated with a risk to life", and therefore machines were immediately withdrawn from combat service at the first sign of problems with the engines or build quality. Despite all, these machines still made their own, small contribution to the common victory, compared with all the various DH4's with other power installations.