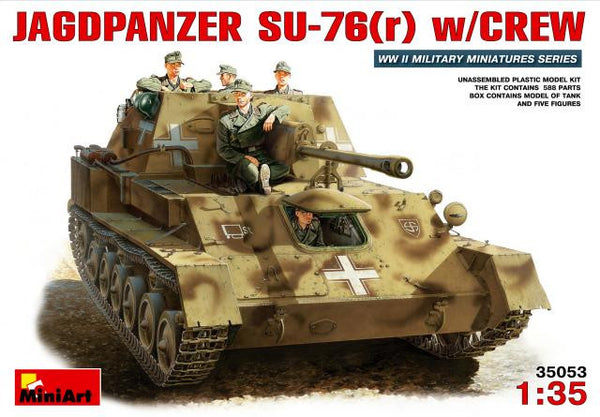 MiniArt 1/35 JAGPANZER SU-76(r) w/Crew | MA35053
$ 50.39
SKU: MA35053
The SU-76 was based on a lengthened and widened T-70 Tank chassis with an additional road wheel each side with the SU-76M being the main production version and was produced in greater numbers than any other Soviet vehicle in WWII other than the T-34 series. 
It featured the ZiS-3 76.2mm Anti-tank gun mounted in the open rear compartment and proved to be  reliable and well liked vehicle that could defeat most German armoured vehicles other than the heavy Tiger series at normal combat ranges. 
It also remained in Soviet and satellite Army use until the late 1950's seeing combat in the Korean War and Hungarian Uprisings of 1956. 
The kits represent the improved SU-76M type produced from 1943 to 1945 with about 17,000 built and as both the kits are identical other than the figures included and decal sheets offered I will included both in the one review.