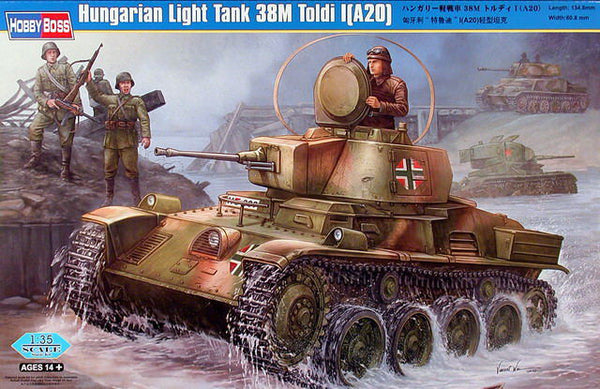 HobbyBoss 1/35 Hungarian Light Tank 38M Toldi I (A20) | 82477
$ 37.89
SKU: HB82477
The 38M Toldi was produced and developed under license from Swedish company AB Landsverk between 1939 and 1942. Only 202 were produced. This was a development of the Strv L-60. 

Toldi tanks entered Hungarian service in 1940. They first saw action with the Hungarian Army against Yugoslavia in 1941.
These tanks were mostly used against the USSR between 1941-1944. Because of their light armour, armament and good communications equipment, they were mostly used for reconnaissance. The design was no match against Soviet T-34 medium tanks encountered during the early stages of Operation Barbarossa.
Toldi I (k.hk. A20) - first variant armed with 20 mm gun, 80 made.