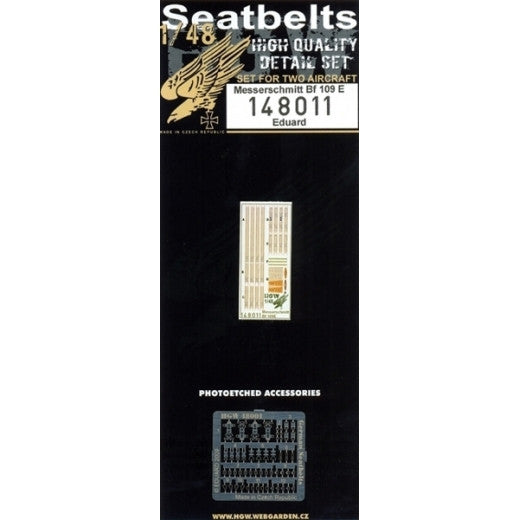 HGW 1/48 Bf 109E - Seatbelts | 148011
$ 7.83
SKU: HGW148011
Micro-plastic seat belts designed for aircraft Messerschmitt Bf 109E
.
.
Belts are made from micro-plastic foil and in combination with attached photo etched buckles they look highly realistic. This product is available in 1/48 scale.
contains

highly detailed 

micro-plastic and photo-etched parts 

belts are fully functional - modeler can leave them un/fastened
made from printed micro-plastic material which credibly simulates textile

belts are prepared for using filters and other agents (they are waterproof and resistant to common nonaggressive modeling preparations

photo-etched parts are developed in cooperation with Eduard company.
INSTRUCTIONS
Cut the belts out from the sheet.

Remove the carrier paper.

Thread the belts through the photo etched buckles – use superglue.

Put them into the seat.

Spray with glossy varnish.

Spray with matt varnish.

Impregnate the seat belts with very diluted oil colour (mix of black and brown) > texture highlight.