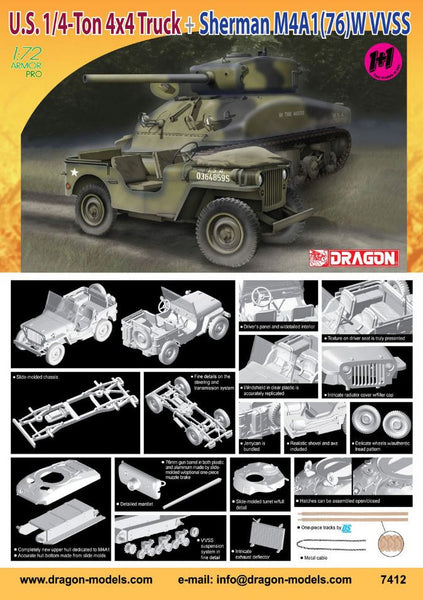 Dragon 1/72 1/4-Ton 4x4 Truck + Sherman M4A1(76)W VVSS | 7412
$ 20.24
SKU: 7412
Perhaps the most iconic military vehicle of all time is the Willys MB, officially known in US military parlance as "Truck, 1/4-Ton, 4x4". With production of 640,000 of these little utility vehicles from 1941-45, it served within the army ranks of Allied countries such as the USA, Britain, France and even the Soviet Union. Powered by a 60hp 4-cylinder engine, the 1/4-Ton Truck was small, yet it was remarkably agile over rough terrain.
Now, for the first time, Dragon has produced a remarkable 1/72 scale kit of this famous 4x4 vehicle. Modelers will well understand that it's not easy to make such a small vehicle in such a small scale…especially a model that's rich in detail and is an accurate rendition of the original vehicle. Indeed, modelers have been waiting several decades for such a 1/72 scale kit of this icon. But now, finally the answer is here.
Utilizing Dragon's newest and brightest technological innovations, the vehicle is reproduced with a sophisticated degree of detail. The body tub is made accurately in one piece thanks to a slide mold. The chassis too is a one-piece component to ensure structural integrity and precise alignment. A .50-cal machine gun is included in the kit, and astonishingly, the weapon muzzle is hollowed out via further application of slide molds. The windscreen and headlights, meanwhile, are made from transparent parts for ultimate realism. Although this little kit by itself is a work of art, Dragon made it even more attractive by including a companion in the kit box. Thus, the little 1/4-Ton Truck is accompanied by an M4A1(76)W Sherman tank with VVSS suspension. These two famous American vehicles of WWII work perfectly together, and modelers will be able to create a dramatic diorama of these Allied subjects.