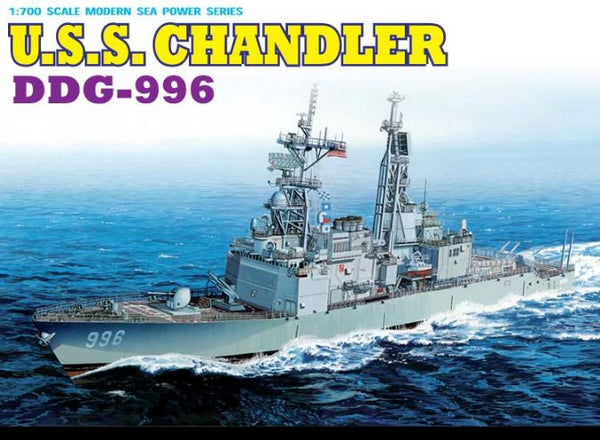 Dragon 1/700 U.S.S. Chandler DDG-996 | DRA7026
$ 20.24
SKU: DRA7026
Derived from the Spruance class, USS Chandler (DDG-996) was the final ship in a class of destroyers operated by the U.S. Navy. Kidd class vessels were designed for air defense in hot weather. She was named after Rear Admiral Theodore E. Chandler
Originally named Andushirvan, Chandler was originally ordered by the Shah of Iran, but was undelivered when the 1979 Iranian Revolution occurred. Subsequent to this, the U.S. Navy elected to commission her for service in the Persian Gulf and Mediterranean Sea, as she was equipped with heavy-duty air conditioning and were also well suited to filtering sand and the results from NBC warfare. She was commissioned in 1982.
USS Chandler has observed or participated in combat in the Arabian Gulf at the height of the Iraq-Iraq war, Operations Desert Storm and Southern Watch against Iraq, as well as operations in Somalia in 1993.
Chandler was decommissioned in 1999. She was transferred to the Republic of China and renamed Wu Teh (DDG-1805) in 2004.