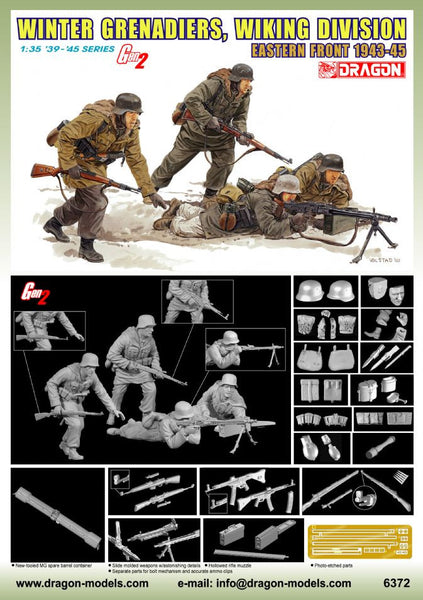 Dragon 1/35 Winter Grenadiers, Wiking Division (Eastern Front 1943-45) | 6372
$ 15.29
SKU: 6372
Four figures are included in Dragon's set of Wiking Division soldiers. They are dressed for the bitterly cold Russian winter, clad in fur-lined anoraks (first pattern) and winter trousers. This is the first time Gen2 figures have appeared in such anoraks, and they are reproduced in separate parts to provide maximum detail and the natural look of their distinctive pattern.
Optional hands allow the machine gunner to fire or cock his weapon, while bonus weapons allow the figures to be adapted to scenes ranging from 1943 to 1945. Associated parts such as alternative ammo pouches are also supplied to match the weapons. These soldiers are ready for action in some snowy or muddy diorama, perhaps with an advancing whitewashed panzer.
About the Wiking Division:
The Wiking Division was formed in January 1941 with primarily Scandinavian volunteers. The division fought on the Eastern Front in such epic battles as Kharkov, Kursk, Korsun-Cherkassy Pocket, and Budapest.