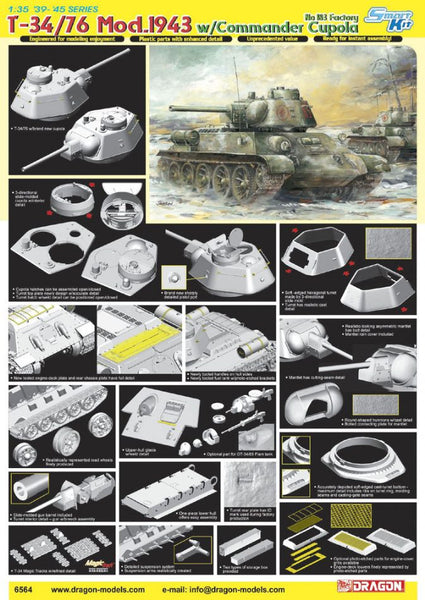 Dragon 1/35 T-34/76 Mod.43 w/Commander Cupola No.183 Factory | 6564
$ 39.19
SKU: DRA6564
Features:
- T-34/76 w/brabd new cipola
- 3-directional slide-molded cupola w/interior detail
- Cupola hatches can be assembled open/closed
- Turret top plate newly design w/accurate detail
- Turret hatch w/weld detail can be positioned open/closed
- Brand new sharply detailed pistol port
- Newly tooled engine-deck plate and rear chassis plate have full detail
- Newly tooled handles on hull sides
- Newly tooled fuel tank w/photo-etched brackets
- Soft-edged hexagonal turret made by 3-directional slide mold
- Turret has realistic cast detail
- Realistic-looking asymmetric mantlet has bolt detail
- Mantlet rain cover included
- Mantlet has cutting-seam detail
- Round-shaped trunnions w/cast detail
- Bolted connecting plate for mantlet
- Accurately depicted soft-edged cast-turret bottom - maximum detail includes ribson turret ring, molding seams and casting-gate seams
- Optional photo-etched parts for engine-cover grills available
- Engine-deck louvers finely represented by photo-etched parts
- Realistically represented road wheels finely produced
- Upper-hull glacis w/weld detail
- Optional part for OT-34/85 Flam tank
- Slide-molded gun barrel included
- Turret interior detail - gun w/breech assembly
- One-piece lower hull offers easy assembly
- Turret rear plate has ID mark used during factory production
- T-34 Magic Tracks w/refined detail
- Detailed suspension system
- Suspension arms realistically created
- Two types of storage box provided

The T-34 is an iconic tank of WWII. Produced in the thousands, it spearheaded the Soviet Union's eventual victory over its German adversary. And now, Dragon's burgeoning range of 1/35 scale plastic kits of this famous T-34 tank has just expanded even further! The newest member of the family is a T-34/76 featuring a hexagonal turret with a cupola fitted.
The hexagonally shaped turret, colloquially referred to as "Gayka" (hex nut) by its Soviet users, provided a lot more interior space than did the original design. In this kit, the turret is a soft-edged cast version that arrives via a totally new molding. It has a realistic cast texture, and is created by three-directional slide molds. In 1943, a commander's cupola was also fitted to the turret, which was a welcome practical addition. This scale cupola is produced by a three-directional slide mold, and even includes interior detail that can be seen through the open hatches.
Dragon's latest T-34 kit depicts a later T-34/76 tank, and as such it also possesses the rubber-tired road wheels that were introduced to smooth the ride and reduce fatigue for crewmen. As well as the finely molded plastic parts, Dragon has included photo-etched components for items like the engine-cover grills, and the tank runs on easy-to-assemble Magic Tracks. This is a fine new kit of the T-34, and offers modelers another option to complete their family of Soviet tanks.