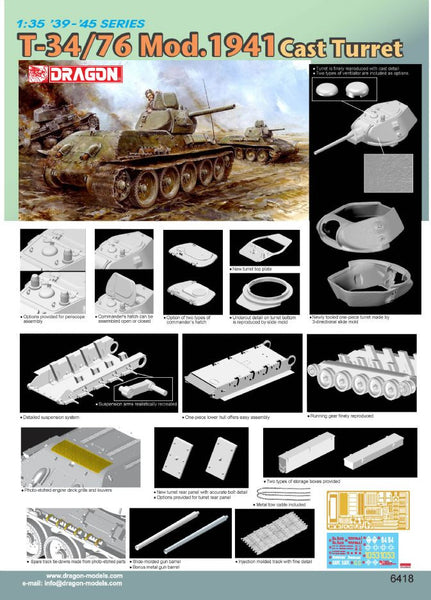 Dragon 1/35 T-34/76 Mod.1941 Cast Turret | 6418
$ 44.79
SKU: DRA6418
Features:
- Newly tooled one-piece turret made by 3-directional slide mold
- Turret is finely reproduced with cast detail
- Option of two types of commander's hatch
- Two types of ventilator are included as options
- New turret top plate
- Commander's hatch can be assembled open or closed
- Options provided for periscope assembly
- New turret rear panel w/accurate bolt detail
- Options provided for turret rear panel
- Slide-molded gun barrel
- Bonus metal gun barrel
- Undercut detail on turret bottom is reproduced by slide mold
- Spare track tie-downs made from photo-etched parts
- Two types of storage boxes provided
- Metal tow cable included
- Photo-etched engine deck grills and louvers
- One-piece lower hull offers easy assembly
- Detailed suspension system
- Suspension arms realistically recreated
- Running gear finely reproduced
- Injection molded track with fine detail
- Cartograf Decal offers various markings
About the T-34
The T-34 was an extremely successful tank design, being in production from 1940 onwards, and being the second most widely produced tank of all time (interestingly, the most widely produced was its successor, the T-55). Even as recently as 1996, a total of 27 countries were still operating T-34 tanks in their armed forces. Equally successful is Dragon's 1/35 scale range of T-34/76 tanks. The newcomer in the range is a Model 1941 version with a cast turret. As Germany waged war on the Soviet Union, a number of improvements and simplifications were necessary to speed up production. One important change was this cast turret introduced in 1941.
About this kit
It's not an easy shape to capture in 3D in plastic, but Dragon has beautifully captured the form of this cast turret with its three-directional slide mold. This allows the complete turret to be manufactured in one piece, just like the original item. The accurate turret rendering is due in large part to the efforts of a Japanese master sculptor, who realistically recreated the texture, dimensions and shape of the real McCoy. However, this exciting new T-34/76 kit doesn't just boast a new cast turret, for it includes a whole range of accurate parts such as an aluminum gun barrel, photo-etched engine deck grills, and numerous slide-molded plastic components. This latest T-34/76 kit will be another success for sure!