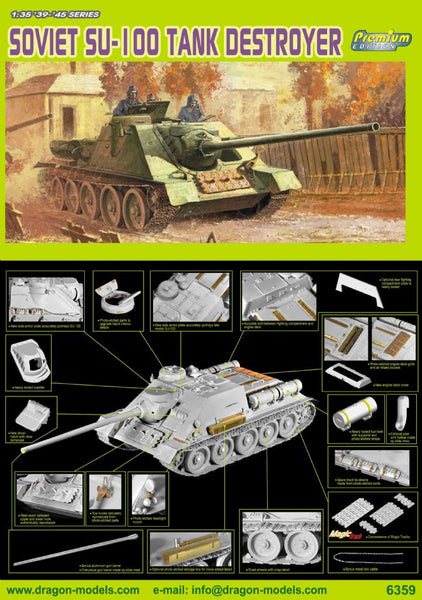 Dragon 1/35 Soviet SU-100 Tank Destroyer | 6359
$ 42.39
SKU: DRA6359
Features:
- New upper hull with improved weld seams and details
- New side armor plate accurately portrays SU-100
- Accurate joint between fighting compartment and engine deck
- Bonus aluminum gun barrel
- One-piece gun barrel made by slide mold
- Newly tooled mantlet NEW TOOLING
- Photo-etched parts to upgrade hatch interior details
- Weld seam between upper and lower hulls authentically reproduced
- New driver hatch with clear periscope
- Headlight mounts produced from photo-etched parts
- Spare track tie-downs made from photo-etched parts
- Storage box can be replaced by photo-etched parts
- Bonus metal tow cable
- Exhaust pipe w/hollow made by slide mold
- New engine deck cover
- Photo-etched engine deck grills and air intake louvers
- Tow hooks delicately reproduced from photo-etched parts
- Magic Tracks
- Newly tooled fuel tank with supports and photo-etched brackets NEW TOOLING
- New Cartograf decals offer a variety markings
About the Russian SU-100:
The SU-100 31.6-tonne tank destroyer was used extensively in the last year of WWII (and beyond) and was one of the war's best tank destroyers. Built by UZTM, it was based on the successful SU-85, though it had a more powerful D-10S 100mm gun capable of penetrating 125mm of vertical armor (i.e. any German tank) at a range of 2000 meters. Other improvements to the SU-100 were its thicker frontal armor increased to 75mm, a commander's workspace in the right-hand sponson, and a cupola for the commander. The SU-100 also had two ventilators installed.