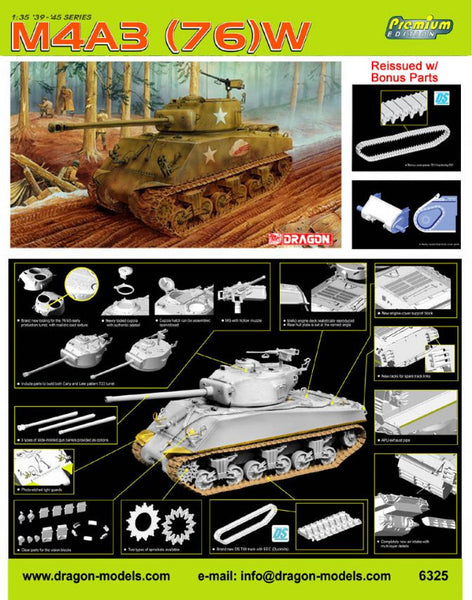 Dragon 1/35 Sherman M4A3(76)W | 6325
$ 42.39
SKU: DRA6325
Features:
Turret:
- Brand new tooling for the (76)W early production turret, with realistic texture
- Newly tooled cupola with authentic detail
- Cupola hatch can be assembled open/closed
- MG with hollow muzzle
- 3 types of slide-molded gun barrel provided as options
Upper hull and Rear:
- New engine-cover support block - APU exhaust pipe
- New racks for spare track links
- Completely new air intake with multi-layer details
- M4A3 engine deck realistically reproduced
- Rear hull plate is set at correct angle
- Clear parts for the vision block
Wheels and Tracks:
- New drive sprocket with delicate detail
- Brand new DS T48 track with EEC (Duckbills)
Others:
- New Cartograf decal
- Photo-etched part
The M4 Sherman must surely be one of the most famous and recognizable tanks of all time. Named after the Union commander, General William Sherman, production exceeded 50,000 units. Dragon has been expanding and enhancing its impressive fleet of 1/35 scale Sherman kits, and the latest launch is a Premium Edition version of the M4A3(76)W. This tank's nomenclature indicates it was powered by a 500hp Ford GAA V8 gasoline engine (M4A3), boasted a 76mm M1 gun (76), and had protective "wet" stowage for ammo rounds (W). The M4A3, the U.S. Army's preferred Sherman variant, began replacing the M4 and M4A1 in 1944. The more potent 76mm antitank gun was needed to confront more heavily armored and more powerfully armed German tanks, and it started to see combat in France from July 1944 onwards. Indeed, by the end of war in Europe, half the American Sherman fleet was fitted with 76mm guns.
Dragon's Premium Edition kit depicts an M4A3(76)W running on the older Vertical Volute Spring Suspension (VVSS). In keeping with its "Premium" status, the kit has received a swathe of improvements and enhancements. It features a brand new Early Production T23 turret with realistically portrayed cast texture. There are newly tooled T48 tracks made from DS, and these have the added bonus of Extended End Connector (EEC) "duckbills", ideal for modeling this tank in a muddy or snowy winter setting. Of course, a range of multimedia items such as photo-etched parts and a bonus aluminum gun barrel are all enclosed in the box too. This beautifully detailed model keeps the M4A3 abreast of Dragon's recently released Sherman kits. With its upgraded and bonus parts, it will be a must-buy for fans of Allied tanks and Shermans.