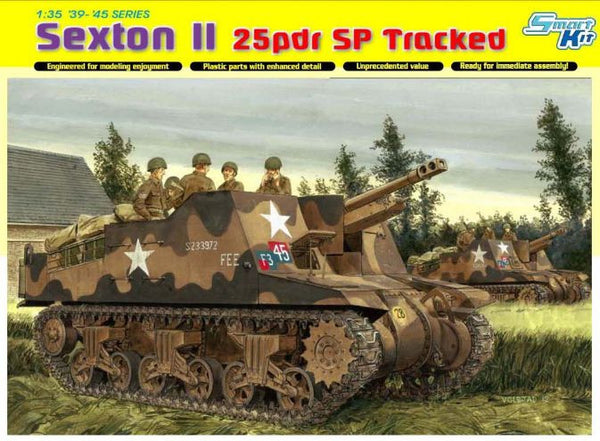 Dragon 1/35 Sexton II 25pdr SP Tracked | 6760
$ 51.99
SKU: DRA6760
Features: 
Newly molded Sexton II w/intricate detail 
Stowage bins added to the rear fighting-compartment 
One-piece slide-molded gun barrel w/hollow muzzle brake 
Gun mount w/hand wheels finely reproduced 
One-piece slide-molded gun barrel w/hollow end 
Vision port accurately molded 
Detailed bolt heads molded on 
Well-defined headlamps reproduced 
Jerry cans reproduced on the rear of Sexton II 
Wire cage rendered w/details 
Transmission realistically produced 
Radio rendered w/fine detail 
Engine deck produced w/astonishing detail 
Engine rear doors assembled 
Detailed instrument panel includes driver's controls 
Bolts and rivets delicately represented on hull bottom 
Lower hull made by 2-directional slide molds 
Fire extinguishers realistically produced 
Fighting compartment w/accurate interior detail 
On-vehicle tools delicately recreated 
Finely detailed suspension system 
DS tracks reproduced w/refined detail
Dragon released a splendid 1/35 scale kit of the Priest self-propelled gun (SPG) as used by the US Army and also by the British Army in the North African campaign. Now, its British counterpart has appeared within Dragon's ranks! Called the Sexton, this SPG was built in Canada by the Montreal Locomotive Works and it mounted the famed British 25-pdr howitzer. The Sexton appeared in 1943 and it replaced the US-built M7 Priest that featured a 105mm gun. It's the Sexton II that's depicted in this kit. This 25.86-tonne SPG was first used in Italy by the 8th Army, and they were also widely used in France and Western Europe. It operated with a crew of six men.

Dragon's kit of the Sexton II, while it bears a striking similarity to the M7 Priest, is most definitely a brand new kit. It features a brand new fighting compartment, new armor plates, a new engine deck and an all-new interior. Obviously, the design team went right back to basics to create this kit. The main armament makes use of the 25-pdr Field Gun kit that Dragon introduced before, although even this had to be modified to allow for the special mount that allowed its installation. The muzzle brake is made from scratch too. Furthermore, the chassis is starkly different to that used on the Priest. Meanwhile, the bogies and road wheels stem from the high-quality Sherman kits that Dragon is renowned for. Indeed, this new Dragon Sexton II is an answer to many a modeler's prayers!