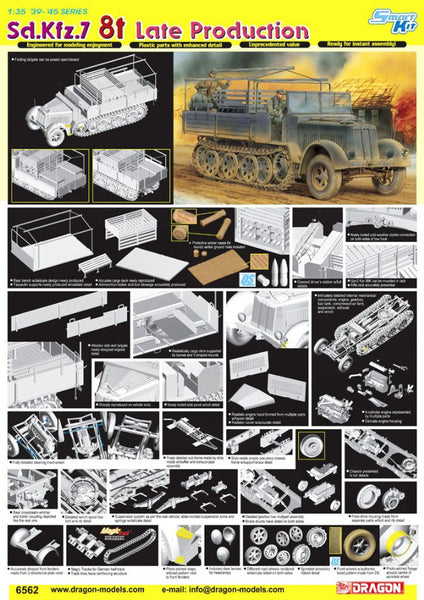 Dragon 1/35 Sd.Kfz.7 8t Half Track Late Production | 6562
$ 51.89
SKU: DRA6562
Features:
- Folding tailgate can be posed open/closed
- Rear bench w/delicate design newly produced
- Tarpaulin supports newly produced w/realistic detail
- Accurate cargo deck newly reproduced
- Ammunition locker and tool stowage accurately produced
- Protective wicker cases for rounds wicker ground mats included
- Opened driver's station w/full details
- Newly tooled cold-weather starter-connection on both sides of tow hook
- Gen2 Kar 98K can be mounted in rack
- Rifle rack accurately presented
- Wooden side and tailgate newly designed w/great detail
- Sharply reproduced on-vehicle tools
- Realistically cargo deck supported by bames and V-shaped mounts
- Newly tooled side panel w/bolt detail
- Realistic engine hood formed from multiple parts w/louver detail
- Rediator cover w/accurate detail
- Intricately detailed internal mechanical components: engine, gearbox, fuel tank, compressed-air tank, suspension, exhaust and winch
- 6-cylinder engine represented by multiple parts
- Delicate engine housing
- Fully detailed sterring mechanism
- Finely detailed sub-frame made by slide molds w/muffler and exhaust-pipe assembly
- Slide molds enable one-piece chassis frame w/support-brace detail
- Rear crossbeam w/roller and trailer coupling depicted like the real one
- Detailed winch spool has bolt and rib detail
- Suspension system as per the real vehicle; slide-molded suspension arms and springs w/delicate detail
- Detailed gearbox has multipart assembly
- Brake drums have detail on both sides
- Final-drive housing made from separate parts w/bolt and rib detail
- Accurately shaped front fenders made from 2-directional slide mold
- Magic Tracks for German half-track
- Track links have reinforcing structure
- Photo-etched steps w/tread pattern next to front fenders
- Includes clear lenses for headlamps
- Different road wheels rendered w/delicate detail on both sides
- Sprocket w/realistic ribbed detail
- Front wheels w/authentic tread pattern made from DS
- Photo-etched flange around centre of sprocket wheel
Dragon has enjoyed great success with its 1/35 kit in the 8t halftrack, the Sd.Kfz.7/1 and 7/2. Following frequent requests from modelers, Dragon is proud to announce the launch of another new kit in the family. It is the standard tractor/prime mover variant, making it suitable for towing artillery pieces. This means the kit immediately lends itself to an inspirational diorama towing one of Dragon's 88mm FlaK 36/37 guns or an s.FH.18 howitzer.
This 1/35 scale kit specifically represents a Late Production variant, and it is ready to be loaded up with crew figures and ammunition. As a 'Late' vehicle, it possesses the requisite rear flatbed, which is a completely new tooling. This rear compartment is accurately made, with bench seats for the crew and an ammunition locker at the front. The typical wood pattern and construction is suitably rendered. The vehicle kit is bulging with detail, with even the gearbox and engine fully detailed inside the engine compartment.
As the first such halftrack tractor from Dragon, this kit will have a distinct appeal to a wide range of modelers, and will doubtlessly inspire some astonishing dioramas from the late-war period!