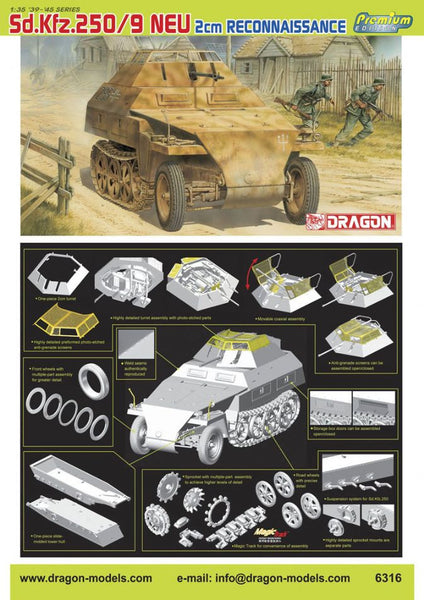 Dragon 1/35 Sd.Kfz.250/9 NEU 2cm Reconnaissance | 6316
$ 53.59
SKU: DRA6316
Dragon has previously released a wide range of Sd.Kfz.250 halftrack variants, and some of them have been selected to receive the famous Premium Edition treatment. This upgrading process adds new components such as photo-etched parts and sharpened detail, offering modelers revamped models that match contemporary standards. The latest Dragon 1/35 scale subject to be re-released in this way is the Sd.Kfz.250/9.
The Sd.Kfz.250 was a light armored halftrack that didn't appear in German service until mid-1941 because of production delays. A neue art (new version) with simplified construction appeared in late 1943. Among the many variants produced was the 6.02-ton Sd.Kfz.250/9 leichte Schu"tzenpanzerwagen (2cm), a light reconnaissance vehicle fitted with a 2cm KwK 38 cannon and coaxial MG34 (or MG42) in an open-topped turret. Later versions of this halftrack shared the same Hangelafette 38 turret of the Sd.Kfz.234/1.
In this kit, the 2cm gun and turret are accurately detailed, with the sophisticated turret molded as a one-piece element for easier assembly by modelers. Photo-etched components are also included to carefully portray the mesh anti-grenade screens found on the turret. Mass production of this vehicle commenced in May 1943, and it replaced the Sd.Kfz.222 in service. The original vehicle was operated by a crew of three, but this kit is easily assembled by one modeler. Replete in its updated guise, this Sd.Kfz.250/9 kit is ready to perform reconnaissance duties on any diorama!