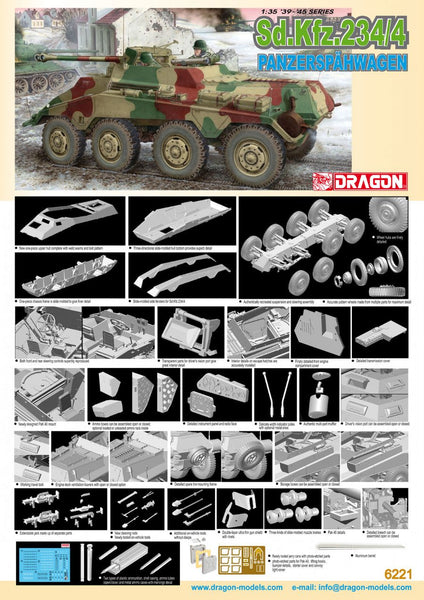 Dragon 1/35 Sd.Kfz.234/4 Panzerspähwagen | 6221
$ 32.99
SKU: DML6221
This kit is fully loaded! In order to ensure accuracy, research and measurments were carried out on an actual surviving Panzerspa"hwagen!
The widespread employment of slide molds and multimedia components results in a superb, must have kit.
Main Features:
Hull detail
- new one-piece upper hull complete with weld seams and bolt pattern
- slide-molded side fenders for Sd.Kfz. 234/4
- engine deck ventilation louvers with open/closed option
- new cleaning rods and on-vehicle tools
- additional on-vehicle tools w/o clasps
- extendable jack made up of separate parts
- storage boxes can be assembled open/closed
- three-directional slide-molded hull bottom provides superb detail
- one-piece chassis frame is slide molded to give finer detail
- authentically recreated suspension and steering assembly
Interior detail
- driver's vision port can be assembled open/closed
- transparent parts for driver's vision port give great interior detail
- finely detailed front engine compartment cover
- interior details on escape hatches are accurately modeled
- both front and rear steering controls superbly reproduced
- detailed instrument panels for front and rear driving compartments
- detailed transmission cover
- ammo boxes can be assembled open/closed; optional loaded/unloaded ammo rack inside
Exterior detail
- delicate width indicator poles with optional metal ones
- authentic multi-part muffler
- accurate pattern wheels made from multiple parts for maximum detail
- wheel hubs are finely detailed
- detailed spare tire mounting frame
- newly tooled jerry cans with photo-etched parts
- photo-etched parts for jerry can mounting straps
Pak40 detail
- newly designed PaK 40 mount
- working travel lock
- double-layer ultra thin gun shield with rivets
- three kinds of slide-molded muzzle brakes
- workable breech
BONUS details
- two types of ammunition, shell casing, ammo tubes (open/close)
- photo-etched parts for Pak40, lifting hooks, bumper details, starter cover and convoy light cover
- aluminum barrel
- Cartograf decals (3 sheets)
About the Panzerspa"hwagen
The German Sd.Kfz. 234 series was an 8-wheeled armored vehicle utilizing a monocoque hull, a vehicle originally intended for use in the desert. Production of the final version, the 234/4, commenced in December 1944. This 11.5-ton armored car was fitted with a 7.5cm Pak 40 L/46 anti-tank gun in an open-top turret, according to Hitler's orders.