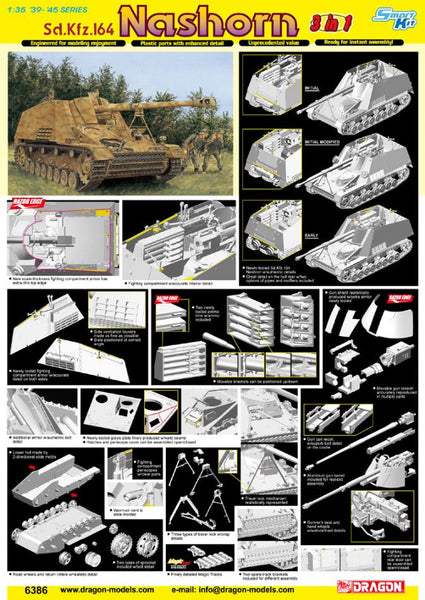 Dragon 1/35 Sd.Kfz.164 Nashorn | 6386
$ 55.19
SKU: DRA6386
Features:
- Newly tooled Sd.Kfz. 164 Nashorn w/authentic details
- New scale-thickness fighting compartment armor has extra-thin top edge
- Newly tooled fighting compartment armor w/accurate detail on both sides
- Two newly tooled ammo bins w/ammo included
- Gun shield realistically produced w/extra armor newly tooled
- Newly tooled glacis plate finely produced w/weld seams
- Great detail on the hull rear w/two options of pipes and mufflers included
- Fighting compartment w/accurate interior detail
- Side ventilation louvers made as fine as possible
- Slats positioned at correct angle
- Movable brackets can be positioned up/down
- Movable gun breech accurately reproduced in multiple parts
- Gun can recoil w/superb bolt detail on the cradle
- Aluminum gun barrel included for realistic assembly
- Gunner's seat and hand wheels w/well-defined details
- Fighting compartment rear door can be assembled open/closed
- Additional armor w/authentic bolt detail
- Hatches and periscope cover can be assembled open/closed
- Road wheels and return rollers w/realistic detail
- Fighting compartment periscopes w/clear parts
- Warm-air vent is slide molded
- Three types of travel lock w/crisp details
- Travel lock mechanism realistically represented
- Two spare-track brackets included for different assembly
- Finely detailed Magic Tracks
Equipped with a long-barreled 8.8cm PaK43/1 L/71 cannon, the Nashorn (translated as "Rhinoceros") was a self-propelled tank destroyer employed by Germany in WWII. The 24-tonne Nashorn was actually an interim solution introduced early in 1943, making its combat debut at the titanic Battle of Kursk. The Nashorn stayed in service until the end of the war, despite being superseded in production by the Jagdpanzer IV and Jagdpanther.
The Nashorn was based on the chassis of the Panzer IV tank, and employed an open-topped lightly armored superstructure to protect the crew. Total production of the Nashorn/Hornisse family amounted to 494 vehicles. They were issued to six individual heavy antitank battalions, and the 8.8cm main armament proved extremely potent.
Other improvements over previous kit offerings are two newly tooled ammo bins positioned on both sides of the vehicle interior. These are highly detailed, with movable brackets that allow actual fitment of ammo rounds. Another advance is made in the main armament, with details on the PaK43/1 newly updated. The breech is movable and the gun can recoil just like the real thing. This same gun is also provided with the option of an aluminum version for maximum realism. The finely made gun barrel travel lock can be displayed up or down, and two different front-mounted brackets for holding spare track links are included. The 1/35 scale kit utilizes Razor Edge technology to give the fighting compartment walls a scale thickness. Dragon's Nashorn has received a makeover, meaning it is even better for modelers to make!