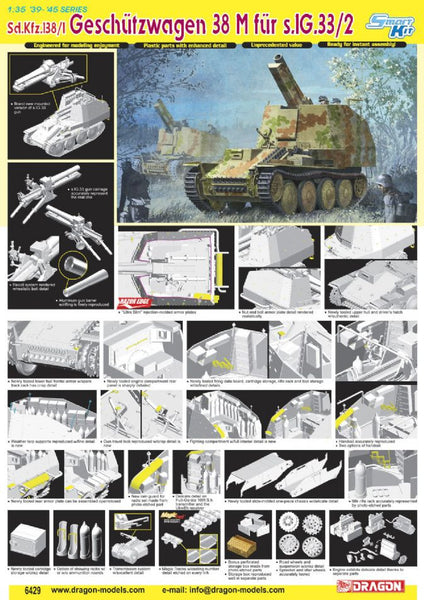 Dragon 1/35 Sd.Kfz.138/1 Geschutzwagen 38 M fur s.IG.33/2 | 6429
$ 51.99
SKU: DRA6429
New Features:
Gun:
- Brand new mounted version of s.IG.33 gun
- s.IG.33 gun carriage accurately represented the real one
- Recoil system rendered w/realistic bolt detail
- Aluminum gun barrel w/rifling finely reproduced
Fighting Compartment:
- "Ultra Slim" Injection-molded armor plates
- Fighting compartment with full interior detail is new
- Nut and bolt armor plate detail rendered realistically
- Newly tooled upper hull and driver's hatch w/authentic detail
- Newly tooled engine compartment rear panel is sharply detailed
- New-tooled firing data board and tool storage w/defined detail
- Weather tarp supports reproduced is new
- Handrail accurately reproduced; two options of handrail
- 98k rifle rack represented by photo-etched parts
- New rain guard for radio set made from photo-etched part
- Delicate detail on fu5-Gerate 10W.S.h transmitter & UkwEh receiver
- Newly tooled rear armor plate can be assembled open/closed
- Newly tooled cartridge storage w/crisp detail
- Option of showing racks w/ or w/o ammunition rounds
- Bonus perforated storage box made from photo-etched parts
Lower Hull, Suspension and Wheels:
- Newly tooled lower hull frontal armor w/spare track rack in crisp detail
- Newly tooled slide-molded one-piece chassis w/delicate detail
- Transmission system with excellent detail
- Road wheels and suspension w/crisp detail
- Sprocket and idler wheels accurately tooled
- Engine exhibits delicate detail thanks to separate parts
Others:
- Magic Tracks w/casting-number detail etched on every link
- New Cartograf decal

Germany relied heavily on horse-drawn artillery at the outset of WWII, but this was obviously unsatisfactory as far as mobility went. One solution was to mount artillery howitzers on surplus tracked chassis such as the Czech-manufactured Panzer 38(t). In this way the Grille (German for "Cricket") was created, which mounted a 15cm sIG.33 infantry gun. Because of a shortage of the new 38(t) Ausf. M chassis, the first 91 Grilles were based on the older rear-engine Ausf. H chassis. However, Dragon has announced a fine new 1/35 scale kit of the more common Ausf. M version of the Sd.Kfz. 138/1 Grille. This design featured a mid-engine layout, which allowed the 15cm schweres Infanteriegeschu"tz 33 gun to be mounted further back on the hull. A total of 282 were produced in 1943.
Dragon's superlative kit features a newly tooled s.IG.33/2 gun, which is based on intensive research conducted on actual weapons. The gun is fully detailed, including the carriage, while the rifling grooves inside the aluminum gun barrel have a realistically reproduced twist. Another exciting feature is Dragon's "Razor Edge" molding technology that replicates the original vehicles' armor plates with ultra-thin precision in 1/35 scale. All the interior detail of the open-topped fighting compartment is also faithfully rendered. Widespread use is made of multimedia materials such as photo-etched metal to give the highest degree of finesse. This exciting new artillery model from Dragon should receive a barrage of applause from fans of German artillery pieces!