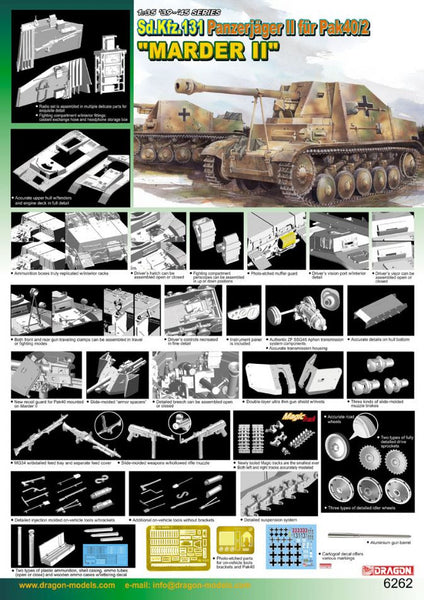 Dragon 1/35 Sd.Kfz.131 Panzerjager II fur Pak40/2 "Marder II" | 6262
$ 32.24
SKU: DRA6262
This model features an open-top fighting compartment which allows us to pack it full with detail. With the exception of the PaK 40, everything in this kit is brand new. It also includes Dragon's smallest ever Magic Tracks! 
upper hull and gun
- new recoil guard for PaK 40 mounted on Marder II
- slide-molded 'armor spacers'
- accurate upper hull with fenders and engine deck in full detail
- double-layer ultra thin gun shield with rivets
- three kinds of slide-molded muzzle brakes
- detailed breech can be assembled open or closed
- driver's hatch can be assembled open or closed
- driver's vision port with interior detail
- ammunition boxes truly replicated with interior racks
- both front and rear gun traveling clamps can be assembled in travel or fighting modes
- detailed injection on-vehicle tools with brackets
- muffler mesh by photo-etched part
- fighting compartment periscopes can be assembled in up or down positions
Interior
- instruction panel of transmission is included
- fighting compartment with interior fittings: coolant exchange hose and headphone storage box
- radio set is assembled in multiple delicate parts for exquisite detail
- Gen2 MG34
- accurate transmission housing
- authentic ZF SSG46 Aphon transmission system components
- driver's controls recreated in fine details
Lower hull
- detailed suspension system
- accurate road wheels
- two types of fully detailed drive sprockets
- three types of detailed idler wheels
- accurate details on hull bottom
- new tooled Magic tracks (Dragon's smallest ever!)
Bonus
- additional on vehicle tools without brackets
- photo-etched parts for on-vehicle tools brackets
- aluminum gun barrel
- Cartograf decal with multiple markings
About this vehicle:
By early war standards, the Panzer II was totally outclassed, and so a decision was made to use the Panzer II Ausf. F chassis as a basis for a self-propelled tank destroyer. The resulting Marder II (Sd Kfz 131) mounted the effective 75mm PaK40/2 gun in a high superstructure. The Marder II appeared in Panzerjager detachments from 1942 onwards, and they were to serve on till the end of WWII.