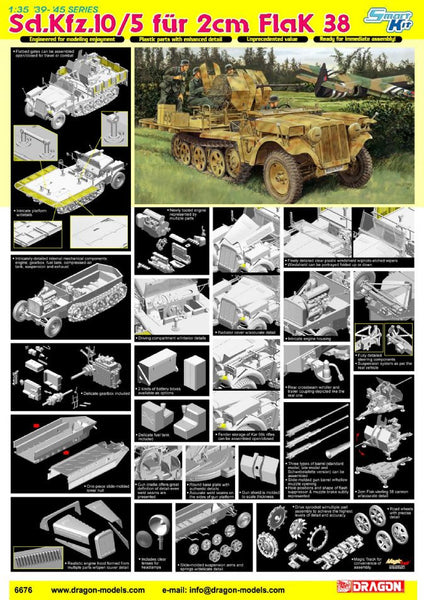 Dragon 1/35 Sd.Kfz.10/5 fur 2cm FlaK 38 | 6676
$ 43.19
SKU: DRA6676
Features:
- Newly tooled engine represented by multiple parts
- Flatbed gates can be assembled open/closed for travel or combat
- Intricate platform w/details
- Intricately detailed internal mechanical components: engine, gearbox, fuel tank, compressed-air tank, suspension, exhaust and winch
- Delicate gearbox included
- One-piece slide-molded lower hull
- Realistic engine hood formed from multiple parts w/louver detail
- Radiator cover w/accurate detail
- Driving Compartment w/interior details
- 2 kinds of battery boxes availble as options w/photo-etched mount included
- Delicate fuel tank included
- Storage box can be assembled open/closed
- Gun cradle offers great definition of detail-even weld seams are present
- Round base plate with authentic details
- Accurate weld seams on the sides of gun platform
- Gun shield is molded to scale thickness
- Finely detailed clear plastic windshield w/photo-etched wipers
- Windshield can be portrayed folded up or down
- Intricate engine housing
- Rear crossbeam w/roller and trailer coupling depicted like the real one
- Fully detailed steering components
- Suspension system as per the real vehicle
- 2cm Flak-vierling 38 cannon w/accurate detail
- Three types of barrel (standard model, late model and Schwebelafette version) can be assembled
- Slide-molded gun barrel w/hollow muzzle opening
- Hole positions and shape of flash suppressor & muzzle brake supply represented
- Includes clear lenses for headlamps
- Slide-molded suspension arms and springs w/delicate detail
- Sprocket with multiple-part assembly to achieve higher levels of detail
- Road wheels with precise detail
- Magic Track for convenience of assembly
Germany fielded a whole range of halftracks during WWII, with different sizes for different purposes. The Sd.Kfz.10, one of the lighter halftrack types, was conceived as a prime mover for small towed guns such as the 3.7cm PaK36 and 2cm FlaK30. Measuring 4.5m long and weighing 4.9 tonnes, this Demag-designed vehicle could carry up to eight passengers. Its top speed was 75km/h. Around 14,000 Sd.Kfz.10 halftracks were built from 1938-45, and the chassis was also used for the Sd.Kfz.250 armored halftrack. Several different specialist vehicles were based on this halftrack design, among them the Sd.Kfz.10/5. This anti-aircraft platform carried a 2cm FlaK38 cannon on a purpose-built platform on the rear of the hull. The weapon system was used by both the Wehrmacht and Luftwaffe.
As Dragon has never produced a kit of this halftrack family before, the body and chassis are brand new. This allowed the design team to really go to town and produce the ultimate detail in this kit, all the while utilizing high-quality engineering for accurate parts. It's fully detailed, including internal components like the engine and gearbox. Of course, it also makes use of Dragon's world-famous 2cm FlaK38 kit. Worthy of special mention is the use of slide molds on the front hood to permit the louvers on the hood sides to be fully open. This stunning level of detail, combined with upgraded road wheels and Magic Tracks has resulted in a spectacular halftrack kit. Designed to hit low-flying Allied aircraft, this vehicle will also be a hit with model-makers all over the world!