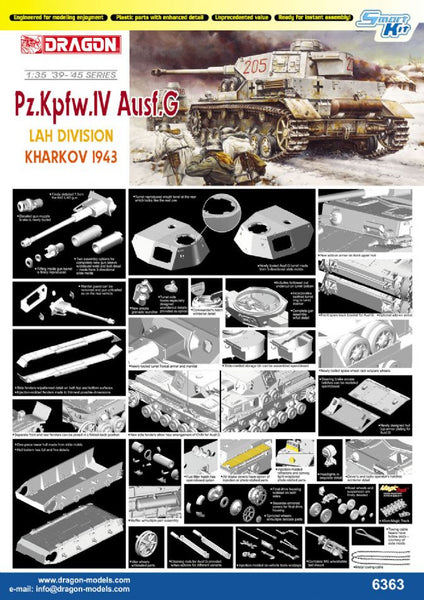 Dragon 1/35 Pz.Kpfw.IV Ausf.G LAH Division (Kharkov 1943) | 6363
$ 44.79
SKU: DRA6363
New Features:
- Newly tooled Ausf.G turret made from 3-directional slide molds
- Turret reproduced with a split level at rear which looks like the real one
- Newly tooled turret frontal armor and mantlet
- Newly tooled spare wheel rack with spare wheels
- Cleaning rods for Ausf.G provided with two options for different variants
- Detailed gun muzzle brake is newly tooled
- Newly designed hull top armor plating for Ausf.G
- New side fenders allow new arrangement of OVM for Ausf.G
- Two types of headlights are included as options
- New add-on armor on front upper hull
- New smoke grenade launcher
- New Cartograf decal offers various markings
- Stunning Box Art
About the Pz.Kpfw.IV Ausf.G
Although the Pz.Kpfw. IV was initially designed as an infantry-support medium tank, it was soon up-armored and up-gunned so it could take over the Panzer III's primary tank-fighting role. The Panzer IV eventually became the most common German tank of WWII, with more than 9000 produced from 1939 to 1945. This gave it the distinction of being the only German tank to remain in continuous production throughout the war. Obviously there were a number of different variants introduced during its lifetime, with one of these being the Ausf. G. A total of 1687 of this version were built in 1942-1943.
Hot on the heels of the runaway success of its Panzer IV F2 Smart Kit, Dragon is launching the Ausf. G Smart Kit. The Ausf. G will likely be even more popular than the less well-known F2, especially since this new kit also bears all the hallmarks of a Smart Kit. Smart Kits offer unbeatable convenience and ease of assembly, as well as being the culmination of oodles of technical expertise from Dragon's designers and engineers. The Panzer IV G has all the acclaimed features of the earlier release, but it is naturally updated with the features peculiar to this version of the famous tank. The model has many newly tooled parts based on thorough research, accurate engineering and high-tech tooling. There are also a number of optional parts such as additional armor, headlights and grenade launchers that allow modelers to select the exact configuration they wish to portray. The brand new Panzer IV Ausf.G Smart Kit is bound to be a hit with modelers, with each kit box jam-packed with brillantly engineered plastic and multimedia components, and with a multitude of optional parts for maximum modeling choice!