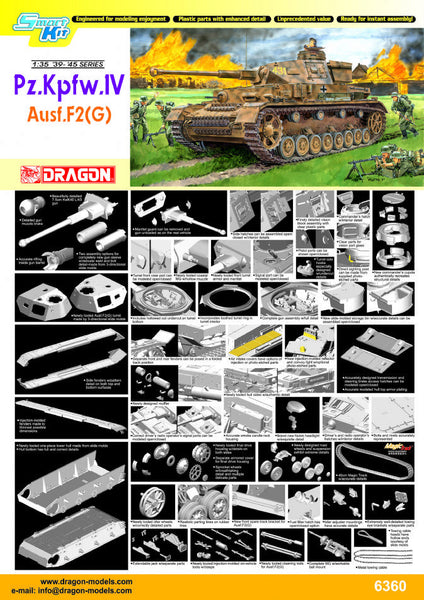 Dragon 1/35 Pz.Kpfw.IV Ausf.F2(G) | 6360
$ 42.79
SKU: DRA6360
This kit has all brand new tooling, with only the tracks being shared from previous kits. Accuracy is ensured through research conducted on several preserved Pz. IVs located from around the world. Furthermore, this Panzer IV kit has been engineered in Smart Kit form, with extremely well-detailed parts using slide molds. It is also very easy to assemble.
Features:
Turret & Gun:
-Detailed gun muzzle brake
-Beautifully detailed 7.5cm KwK40 L/43 gun
-Accurate refling inside gun barrel
directional slide molds
-Newly tooled Ausf.F2(G) turret made by 3-directional slide molds
-Newly tooled coaxial MG w/ hollow muzzle
-Newly tooled front turret armor and mantlet
-Signal port can be modeled open/closed
-Commander's hatch w/interior detail
-Clear parts for vision port glass
-New commander's cupola authentically recreates structural details
-Includes hollowed out undercut on turret bottom
-Incorporates toothed turret ring in turret interior
Upper Hull:
-Side fenders w/pattern detail on both top and bottom surfaces
-Injection-molded fenders made to thinnest possible dimensions
-Separate front and rear fenders can be posed in a folded back position
-Air intake covers have options of injection or photo-etched parts
-Newly tooled hull sides w/authentic detail
-Accurately designed transmission and steering brake access hatches can be modeled open/closed
-Accurate modeled hull top armor plating
-Newly designed muffler
-Brand new Notek headlight w/exquisite detail
-Bolts and rivets accurately represented
-Newly tooled injection-molded on-vehicle tools w/clasps
-Newly tooled cleaning rods for Ausf.F2(G)
-Complete MG w/workable ball mount
Lower Hull:
-Newly tooled one-piece lower hull made from slide molds
-Newly tooled final drive housing w/details on both sides
-Newly designed road wheels and suspension exhibit extreme details
-Newly tooled idler wheels w/correctly detailed
Others:
-40cm Magic Track w/accurate details
-Cartograf decal offers accurate markings
-Metal towing cable
About the Panzer IV G:
The Panzer IV G was to be the first tank installed with the 7.5cm KwK40 L/43 gun in 1942. However, the Wehrmacht needed to urgently counteract the thicker armor of the T-34 and KV-1 so this gun was also fitted to some Ausf. F tanks (where it was known as the F2). A total of 175 F2 tanks were produced from March to July 1942.