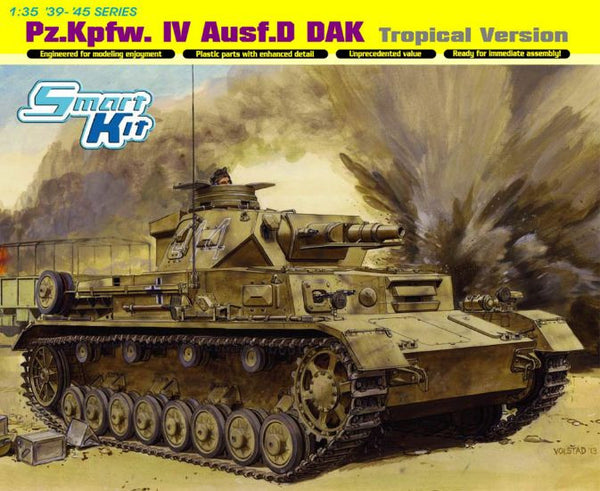 Dragon 1/35 Pz.Kpfw.IV Ausf.D DAK Tropical Version | 6779
$ 47.99
SKU: DRA6779
Features:
Authentic Pz.Kpfw. IV Ausf.D DAK Tropical Version rendered w/full detail 
Newly tooled antenna w/ delicate detail
Spare wheel rack w/well-defined wheel
New Smart Kit Technology for suspension system and road wheels
Newly tooled sprocket wheels w/ multiple parts
Turret rendered w/excellent detail
Realistic mounting ladder made from photo-etched parts
Well-defined one-piece hull w/side armor
Lower hull formed from multiple parts for greater detail
Newly produced one-piece DS tracks
Side hatches w/hinges can be assembled open/closed
Pistol port can be shown open/closed
Storage bin can be assembled open/closed
Signal port and ventilation cover can be assemble open/closed
Hollowed-out undercut on turret bottom
Incorporates toothed turret ring on turret interior
Turret turntable unit included
5-directional slide-molded commander's cupola authentically recreates structural details
Muffler subtly produced
Subtle front turret armor and mantlet
Realistic KwK.37 L/24 gun mimics the original
Delicate catcher for spent ammo shells
Accurate rifling gun barrel
Commander's, loader's and gunner's seats included
Turntable w/accurate floor pattern
Vision port w/open/closed option 
Cupola hatches can be assembled open/closed
Correct driver's vision port can be modeled open/closed
Both regular and DAK-type engine deck hatches available
Complete MG w/workable MG ball mount
Delicate pistol port
Realistic double-layered air intake
Direct sighting port included
Separate front and rear fenders can be posed in a folded-back position
Slide-molded coaxial MG w/hollow muzzle
Full coaxial MG Assembly
Commander's hatch w/interior detail
Clear parts for vision port sight port sight glass
Direct sighting port included
Fuel filler cover has open/closed option
Towing-eye brackets presented w/multiple parts 
Separate front and rear fenders can be posed in a folded-back position
Optional bolts for added detail
Final-drive housing w/details on both sides
Idler adjuster mountings have accurate details w/gears inside
Correctly detailed idler wheels w/numerous separate parts
Astoundingly delicate slide-molded 
On-vehicle tools w/photo-etched clasps
Injection fenders are made to the thinnest possible dimensions
Fans and coupling assembled w/multiple parts 
Extendable jack, headlights and tow cables w/hollow ends produced w/subtle detai
Dragon offers a pretty complete lineup of the popular Panzer IV family tree in 1/35 scale, but owing to the vehicle's widespread use by German forces throughout the entirety of WWII, there's always room for something new and special! Thus, the newest Panzer IV plastic kit from Dragon is an Ausf.D Tropical Version, a type used in combat in North Africa. Production of the Ausf.D commenced later in 1939, with some 248 produced altogether. Improvements included the reintroduction of the hull machine gun and an external mantlet instead of the previously used internal one. Side armor was thickened to 20mm too. The Deutches Afrika Korps (DAK) used it in North Africa though it was soon superseded by more effective longer-gunned versions. 
This 1/35 scale kit is a fantastic offering, which adds appeal to the Ausf.D already available in the collection. That particular model released earlier was sophisticated and extremely detailed, though novice modelers may have found it a challenge. However, this Ausf.D DAK version has received the Smart Kit treatment, which means it's now incredibly easy to assemble. This is obvious when it comes to details such as the road wheels and other parts of the running gear. The end result is a tank that modelers can put together without any fuss, straight from the box. And speaking of the box, the artwork on the lid by Ron Volstad will surely inspire modelers. It shows an impressive scene of the tank in full combat mode. With this illustration before their eyes, modelers will almost feel the sand between their fingers as they plan their next North African diorama scene!