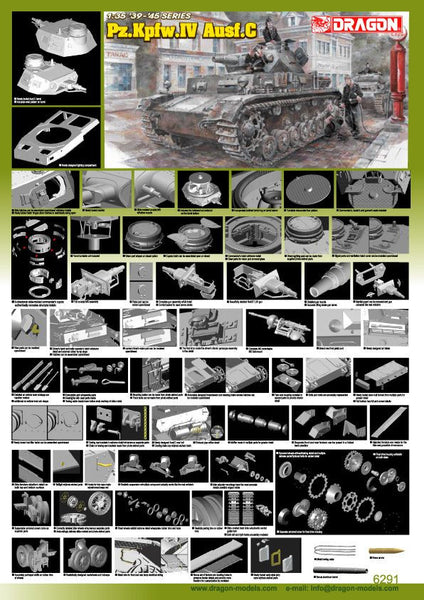 Dragon 1/35 Pz.Kpfw.IV Ausf.C | 6291
$ 33.74
SKU: DML6291
Turret & Cupola
- Newly tooled Ausf. C Turret
- Accurate weld pattern on turret
- Newly designed front superstructure plate
- Side hatches can be assembled open/closed w/interior details
- Newly tooled hatch hinges allow hatches to realistically swing open
- Pistol port can be shown open/closed
- Direct sighting post can be made from supplied photo-etched parts
- Signal ports and ventilation hatch cover can be modeled open/closed
- 5-directional slide-molded commander's cupola authentically recreates structural details
- Commander's, loader's and gunner's seats included
- Cupola hatch can be assembled open or closed
- Commander's hatch w/interior detail
- Vision port w/open or closed option
- Clear parts for vision port armored glass
Gun and Mantlet
- Newly tooled mantlet
- Slide-molded co-axial MG w/hollow muzzle
- Full co-axial MG assembly
- Complete gun assembly w/full detail
- Beautifully detailed Kwk37 L/24 gun
- Detailed gun muzzle
- Correct basket for used ammo shells
- Accurate rifling inside gun barrel
- Mantlet guard can be removed and gun unloaded like real vehicle's
- View ports can be modeled open/closed
Upper Hull
- Includes the hollowed out undercut on the turret bottom
- Incorporates toothed turret ring on turret interior
- Turret turntable unit included
- Turntable w/accurate floor pattern
- Driver's hatch and radio operator's hatch w/interior detail and external rubber bump stops
- Hatches can be assembled open/closed
- Correct driver's vision port can be modeled open/closed
- Driver's interior periscope assembly modeled in fine detail
- Brand new front pistol port
- Headlights with clear parts inside
- Accurately designed transmission and steering brake access hatches can be modeled open/closed
- Newly designed air intake w/optional photo-etched parts
- Fans and coupling modeled in several parts to provide interior detail
- Bolts and rivets are accurately represented
Lower Hull & Rear
- Newly tooled lower hull formed from multiple parts for greater detail
- Hull bottom has full and correct details
- Slide molded track links w/authentic central guide hom
- Side fenders w/pattern detail on both top and bottom surface
- Newly tooled fuel filler hatch can be assembled open/closed
- Towing eye brackets in extreme detail w/numerous separate parts
- Chain on towing eye brackets made from photo-etched parts
- Separate front and rear fenders can be posed in a folded back position
- Injected fenders are made to the thinnest possible dimensions
- Metal wire for front and rear lamp electrical wiring
- Mounting ladder can be made from photo-etched parts
- Towing cable heads have hollow ends courtesy of slide molds
- Extendable jack w/separate parts
- Detailed on-vehicle tools w/clasps are injection molded
- Additional on-vehicle tools w/o clasps
- Newly designed Ausf. C rear hull
- Cooling drain cap w/photo-etched chain
- Exhaust pipe w/fine detail
- Muffler made in multiple parts for greater detail
- Reflector w/photo-etched parts
- Hooks for tow rope made w/preformed brass rod
Wheels & Tracks
- Both left and right tracks accurately modeled
- Newly tooled early 38cm track link for Pz.IV Ausf.B/C
- Realistic suspension w/multiple component actually works like the real vehicle's
- Idler adjuster mountings have the most accurate details possible w/gear inside
- Suspension armored covers come as separate parts
- Correctly detailed idler wheels w/delicate slide molded and photo-etched parts
- Road wheels exhibit extreme detail w/separate rubber rims and hubs
- Realistic parting line on rubber rims
- Sprocket wheels w/breathtaking detail and multiple delicate parts/Optional bolts for added detail
- Final drive housing w/details on both sides
- Separate armored cover for final drive housing
- Realistically designed roadwheels and hubcaps
- Accurately portrayed width on rubber rims of wheels
Bonus items
- Bonus set fenders w/o locating holes-to preserve fender details (provide more freedom for customization by modelers)
- Newly tooled early-style jerry cans w/photo-etched parts
- Metal towing cable
- Bonus aluminum barrel
- Brass ammo
About the Panzer IV:
The Panzerkampfwagen IV (PzKpfw IV), more commonly referred to as the Panzer IV, was a tank developed by Germany and used extensively in World War II. It was designed initially as an infantry-support medium tank, to work in conjunction with the anti-tank Pzkpfw III. Later in the war, it was up-gunned and up-armored, and took over the tank-fighting role. The Panzer IV was the most common German tank of World War II, and was used as the base for many other fighting vehicles, such as tank destroyers and self-propelled antiaircraft gun. The Panzer IV has the distinction of being the only German tank to remain in continuous production throughout all of WWII, with over 9,000 produced since 1939.
Only 138 "C" versions were made between 1938 and 1939.