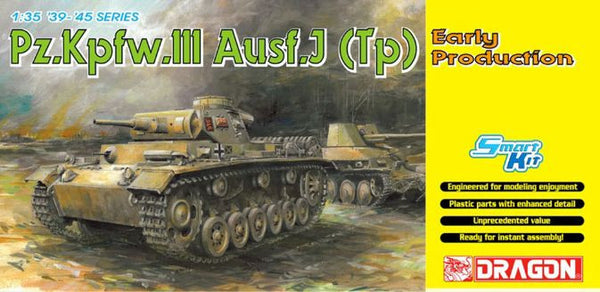 Dragon 1/35 Pz.Kpfw.III Ausf.J (Tp) Early Production | 6543
$ 49.59
SKU: DRA6543
Features:
Newly tooled slide-molded engine deck for Pz.III Ausf.J 
Newly designed engine ducted hatch for Pz.III Ausf.J Early Production 
New injection-molded tow cable for engine deck w/cable mount included 
Engine hatches can be assembled open or closed 
Complete gun assembly reproduced w/full detail 
5cm Kw.K L/42 gun wdelicate detail 
Gun barrel and mantlet are sldie molded 
3-directional slide-molded gun sleeve for greater detail 
Hollowed-out undercut on turret bottom included 
Side hatches can be assembled open or closed w/interior details 
Optional bullet splash strips provided 
Gearbox access hatch finely designed 
Photo-etched mesh included 
Air deflector accurately represented 
Slide-molded cooling air intake 
Photo-etched air-intake grills 
Fenders w/pattern detail on both top and bottom surfaces 
Turret realistically made by 3-directional slide molds 
One-piece slide-molded lower hull w/exquisite detail 
Lower hull sides come w/full detail 
Fully detailed weld seams on hull bottom 
Slide-molded torsion bars included 
Slide-molded hydraulic shock absorbers are well detailed 
Detailed suspension swing arms 
Slide-molded stowage bin w/fine details can be assembled open or closed 
Exhaust pipes w/hollow ends 
Notek headlight w/exquisite detail 
Toolbox w/padlock produced by slide mold 
Final-drive housing covers are separate parts for maximum detail 
Accurate sprocket wheels 
Road wheels w/accurate detail 
Injection-molded on-vehicle tools have clasp detail 
Idler wheels w/photo-etched parts 
Detailed track tension adjuster 
Initial 40cm Magic Tracks
The Panzer III was developed in the 1930s to act as Germany's main battle tank with the task of taking on enemy armored vehicles. However, by the time it encountered Russian T-34 and KV-1 tanks on the Eastern Front, it had become obsolete for this task. In an effort to keep the Pz.Kpfw.III relevant, it was rapidly up-gunned and up-armored. One such variant was the Ausf.J, which featured 50mm-thick solid frontal armor, an improvement over the earlier 30mm armor. It also received a longer 5cm KwK.38 L/42 main gun, though later production examples of the Ausf.J received even longer KwK.39 L/60 guns. Another important change in the Ausf.J was a lengthened hull. A total of 482 Early Production Ausf.J tanks were built in 1941, while a total of 1067 vehicles with the more capable KwK.39 L/60 gun were produced up till mid-1942. The Ausf.J served in Russia as well as North Africa.

Dragon is proud to announce a phenomenal 1/35 scale representation of a Panzer III Ausf.J Early Production tank. The kit boasts the correct modifications of this variant, with many parts such as the engine deck and turret shell newly designed and produced by slide molds. The slide-molded hull comes as one piece to serve as an accurate foundation for all the exquisite detail found in this kit. Photo-etched parts for elements like idler-wheel rings and air-intake grills add realism. Clever engineering also ensures this Smart Kit is not overly complicated to assemble, the job being made easier by parts such as Dragon's patented Magic Tracks. This new 1/35 kit from Dragon extends the Panzer III range, and it has enormous potential in modelers' dioramas or vehicle collections!