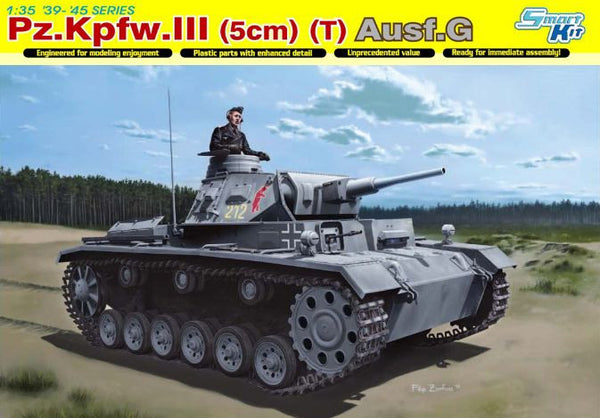 Dragon 1/35 Pz.Kpfw.III (5cm) (T) Ausf.G | 6773
$ 53.59
SKU: DRA6773
Features: 
Newly designed Pz.Kpfw.III(5cm)(T) Ausf.G
Finely produced smoke grenades w/photo-etched chains
Armor plate realistically represented w/weld seams
Fine details w/photo-etched parts
Hatches on engine deck can be assembled open/closed
Fenders w/pattern detail on both top and bottom surfaces
5cm Kw.K38 L/42 gun w/astonishing details
Hatches on glacis plate can be assembled open/closed
3-directional slide-molded turret is assembled from separate parts
Slide-molded torsion bars included
One-piece lower hull w/exquisite detail
Full detail on lower-hull sides
Fully detailed weld seams on hull bottom
5-directional slide-molded commander's cupola authentically recreates structural details
Cupola hatches can be assembled open/closed
Complete gun assembly reproduced w/full detail
Gun barrel and mantlet are slide-molded
3-directional slide-molded gun sleeve for greater detail
Starter crank port cover can be assembled open/closed
Delicate exhaust pipes
Injection-molded OVM w/clasps
Hollowed-out undercut on turret bottom included
Slide-molded hydraulic shock absorbers are fully detailed
Detailed suspension swing arms
Detailed idler wheels and track tension adjusters
Final-drive housing covers are seprate parts for maximum detail
Accurate sprocket wheels
Road wheels w/accurate detail
Realistic cover molded on hull rear 
Injection-molded tow cables for engine deck w/brackets included
After German forces had swept across Western Europe as undisputed champion in 1940, the lone resistance came from the British Isles. It was planned that Germany would conduct an amphibious invasion of Great Britain under the codename Operation Sea Lion, and to this end a number of Panzer IIIs were especially converted into diving tanks. These were known as the Tauchpanzer III, and they had the ability to drive along the seafloor totally submerged thanks to a breathing apparatus. During the planned invasion, they would have been lowered from ships onto the seafloor near the coast and they could then drive onto the shore. In the end these tanks were not used to cross the English Channel as it was decided to bring Britain to its knees via the Luftwaffe instead.
Dragon's newest 1/35 kit portrays a Tauchpanzer III Ausf.G, which was the most common version of this customized tank. It carries a 5cm gun. It's based on Dragon's previously released Panzer III G kit, as well as parts from the earlier Ausf.F Tauchpanzer kit. The box contains all the necessary parts to make the diving tank, including waterproofing parts for the gun shield and turret ring. This is an absolutely fascinating kit and modelers have long been waiting for a model of this particular variant. Even though the Tauchpanzer wasn't used in earnest in the English Channel, they were used during the massive invasion of the Soviet Union so this opens up modeling opportunities. This excellent Tauchpanzer 'diving tank' kit will have modelers 'diving' into model shops to obtain it.