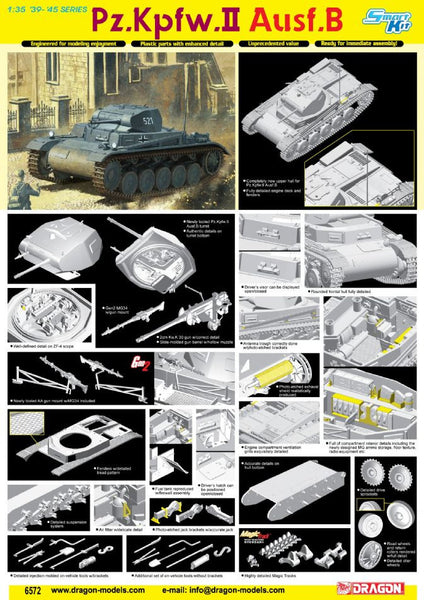 Dragon 1/35 Pz.Kpfw.II Ausf.B | 6572
$ 39.99
SKU: DRA6572
Features:
- Newly tooled AA gun mount w/MG34 included
- Completely new upper hull for Pz.Kpfw.II Ausf.B
- Newly tooled Pz.Kpfe.II Ausf.B turret
- Full of compartment interior details including the newly designed MG ammo storage, floor texture, radio equipment etc.
- Authentic details on turret bottom
- Fully detailed engine deck and fenders
- Gen2 MG34 w/gun mount
- 2cm Kw.K 30 gun w/correct detail
- Slide-molded gun barrel w/hollow muzzle
- Driver's visor can be displayed open/closed
- Rounded frontal hull fully detailed
- Well-defined detail on ZF-4 scope
- Antenna trough correctly done w/photo-etched brackets
- Photo-etched exhaust shield realistically produced
- Engine compartment ventilation grills exquisitely detailed
- Fenders w/detailed tread pattern
- Fuel tank reproduced w/firewall assembly
- Driver's hatch can be positioned open/closed
- Detailed suspension system
- Air filter w/delicated detail
- Photo-etched jack brackets w/accurate jack
- Accurate details on hull bottom
- Detailed drive sprockets
- Road wheels and return rpollers rendered w/full detail
- Detailed idler wheels
- Detailed injection-molded on-vehicle tools w/brackets
- Additional set of on-vehicle tools without brackets
- Highly detailed Magic Tracks
The Panzer II, developed by Germany in the 1930s, was an improvement over the Panzer I, but it was still seen only as a stopgap measure in Germany's goal of creating a powerful tank force. The Panzer II was widely used in early campaigns of WWII such as the invasion of Poland, the Low Countries and France, but by 1943 it had ceased production and the Panzer II chassis was being converted to other uses. At a maximum of only 16mm thick, the steel armor on early tanks proved inadequate. The main armament of most Panzer II variants was the 2cm Kw.K30 L/55 cannon and a coaxial MG34, although the main gun was mostly ineffective in the antitank role. A crew of three (commander, loader/radio operator and driver) operated the Panzer II. A 140hp six-cylinder Maybach HL 62 TRM engine powered the small tank to a maximum speed of 40km/h. The first series-production model was the Ausf.A, which appeared in July 1937. Sporting only superficial changes, the Ausf.B superseded it in December of the same year.
It is such a Panzer II Ausf.B that is the latest subject to join the ranks of Dragon's 1/35 plastic kit series. The kit features a brand new turret suitable for the Ausf.B, and this element has interior parts such as visors and a full cannon and breech. The 2cm cannon is slide molded and possesses a hollow muzzle, while the mount for 7.92mm MG34 used for antiaircraft duties is a brand new tooling. This kit may be small, but it is exploding with detail. As an example of its utilitarian nature, the kit includes two sets of on-vehicle tools. One set depicts the tools with their respective clasps and brackets, while a spare set of OVM has no clasps. This allows those modelers who prefer using photo-etched clasps to add them with greater ease. Therefore, with such practical touches, this kit suits everyone from beginner to experienced modeler! This Panzer II Ausf.B kit epitomizes the maxim that good things do indeed come in small packages!