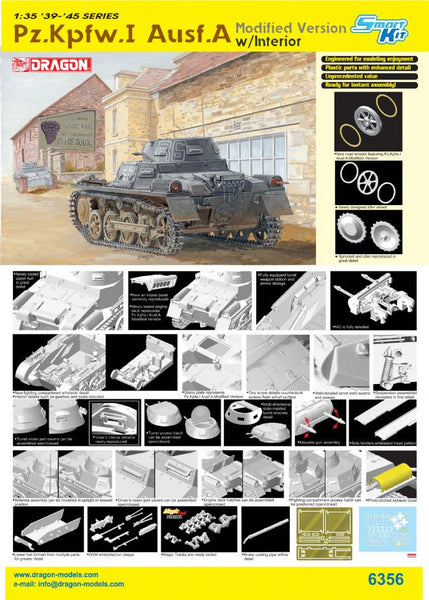 Dragon 1/35 Pz.Kpfw.I Ausf.A Modified Version w/Interior | 6356
$ 42.39
SKU: DRA6356
Features:
- Newly tooled upper hull w/authentic details on hull sides
- New glacis plate represents Pz.Kpfw.I Ausf.A Modified
- Newly tooled engine deck represents Pz.Kpfw.I Ausf.A Modified
- New air intake cover correctly reproduced
- New fighting compartment w/interior detail
- Interior details such as gearbox and seats included
- Fully equipped turret weapon station and ammo storage
- Newly tooled smoke candle
- New road wheels featuring Pz.Kpfw.I Ausf.A Modified
- Genuine cast metal MG is fully detailed
- Newly tooled siren
- Magic tracks
- Cartograf decal offer accurate markings

The Panzer I was Germany's first tank design after the imposition of the Versailles Treaty at the close of WWI. Produced from 1934 onwards, it was actually designed as a training tank for the nation's reforming military. This didn't prevent it from seeing combat in the Spanish Civil War, the Sino-Japanese War, and of course in WWII. As Blitzkrieg wreaked havoc on Europe in 1939 and 1940, the Panzer I was a vital component in the all-conquering panzer divisions. However, it was already obsolete due to its poor armor protection and light armament, never being designed from the outset as a combat tank. Nevertheless, it's a tank that deserves recognition for the role it played, and Dragon has given it the attention it deserves.
Dragon has previously released a Smart Kit version of the Panzer I Ausf. A Early Production tank, which was a huge success with modelers. This new kit is a Modified version, and it features many new parts such as a redesigned engine deck, an upper hull and road wheels. Perhaps the most amazing feature of this kit is the full interior detail incorporated. This allows modelers to display in magnificent detail such areas as the fighting compartment, turret and engine compartment. Moreover, the kit inherits all the delightful features of the earlier release – items such as delicate weld seams and flush screw-heads. So, whether inside or out, this magnificent Panzer I Ausf. A kit offers a refreshing high-quality modeling experience.