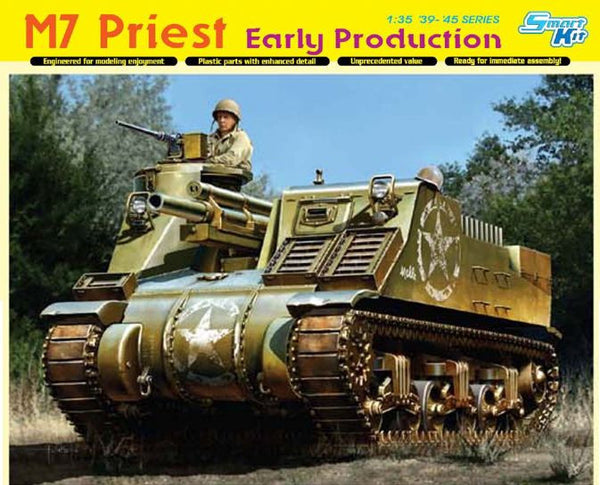 Dragon 1/35 M7 Priest Early Production | 6627
$ 57.59
SKU: DRA6627
Features:
- Newly tooled M7 Priest Early Production q/authentic details
- Newly tooled stowage bins for Early Production
- Newly tooled glacis plate finely produced w/weld seams
- Newly tooled fighting-compartment armor w/accurate details on both faces
- Newly tooled one-piece slide-molded transmission cover w/realistic cast detail
- Newly tooled air filters
- Newly tooled vehicle tools have clasp detail
- Newly designed M2 machine gun pulpit provides full field of fire
- Brand new M2 105mm howitzer w/complete breech
- New rear-hull armor plate w/air filters
- Fully detailed brand new T41 DS tracks
- Hatch and periscope cover can be assembled open/closed
- Aluminum gun barrel w/finely reproduced rifling
- Fighting compartment w/accurate interior detail
- Floor pattern realistically produced
- Transmission w/excellent detail
- Anti-aircraft MG w/gun mount
- Detailed ammunition set included as bonus
- Intricately reproduced gun elevation system
- Fully detailed gun cradle mount w/bolt and support-brace details
- Gun breech made by slide mold
- Shield supports connected to gun also included
- Gun mount w/hand wheels finely reproduced
- Engine compartment rear panel is sharply detailed
- Detailed instrument panel
- Includes driver's controls
- Lower hull made by 2-directional slide molds
- Bolts and rivets delicately represented on hull bottom
- Towing eyes included
- Accurately reproduced suspension
- Suspension bogies w/realistic cast detail
- Idler wheels have delicate detail
At the time of its entry into WWII, the USA relied heavily on the M3 Lee tank. Very early on it was realized there was a need for an armored and fully tracked self-propelled howitzer able to keep pace with armored formations. The resulting design, based on the M3 chassis and featuring an M2 105mm gun, was the 105mm Howitzer Motor Carriage M7. In British service it was, due to the .50-cal machine gun mounted in a prominent pulpit-like structure, called the Priest. Production of the 22.97-tonne vehicle commenced in April 1942, and a total of 2,814 M7s were eventually built. Early M7 Priests served with both the US Army and the British in North Africa and the Mediterranean. Each US armored division featured three battalions of the successful M7.
Dragon's new 1/35 scale kit of the M7 Priest depicts an Early-Production type. It builds on the popular success of the Mid-Production kit (Item No.6637), and it features correct characteristics such as the howitzer (with an aluminum barrel featuring delicate rifling), ammunition stowage, transmission cover and M3-type bogie suspension. Among the many newly tooled parts are the side-armor plates for the hull, and new stowage bins on the rear of the hull. The interior of the main fighting compartment is particularly well done with full detail such as the 105mm M2 howitzer, stowed and ready-to-use ammunition rounds, intricate driver's compartment and complete transmission.