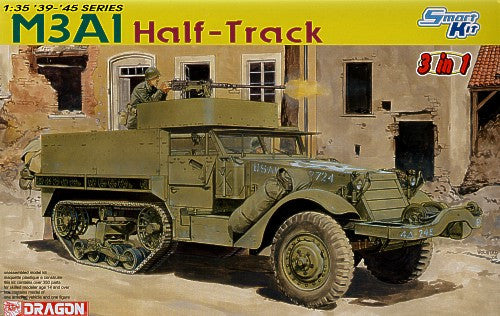 Dragon 1/35 M3A1 Half-Track | 6332
$ 45.23
SKU: 6332
Dragon's exciting new M2/M2A1 halftrack exploded onto the modeling scene in 2006 and it proved an instant hit with modelers worldwide. This halftrack is now to be joined by the longer-bodied M3 halftrack – and modelers' excitement will undoubtedly climax with its release!
Like its stable mate, this new Smart Kit is a 3-in-1 offering, allowing an M3, M3A1 or M3A2 halftrack to be built. Dragon has spared no effort in reproducing these three distinctive vehicles. The essential differences are these: the M3 was armed with an MG on a central pedestal mount; the M3A1 replaced this with a ring mount in an armored 'pulpit' above the front passenger seat; and the M3A2 was a prototype with an armored shield on the AA ring mount , with moveable stowage boxes in the rear of the hull.
In Dragon's tantalizing kit, each version is provided with its own troop compartment, side armor plates and rear armor panel. As with the previous halftrack release, this kit is replete with amazing detail such as the rear suspension bogeys and innovative solution to recreating the rubber band tracks. As a Smart Kit, it naturally offers convenient ease of assembly for modelers. These halftracks were used in every theater of WWII and beyond, and not just by U.S. forces, so modelers have an enormously wide scope for modeling their vehicles. Allied fans have been waiting a long time for this kit, and Dragon has made sure the wait has been well worth it!