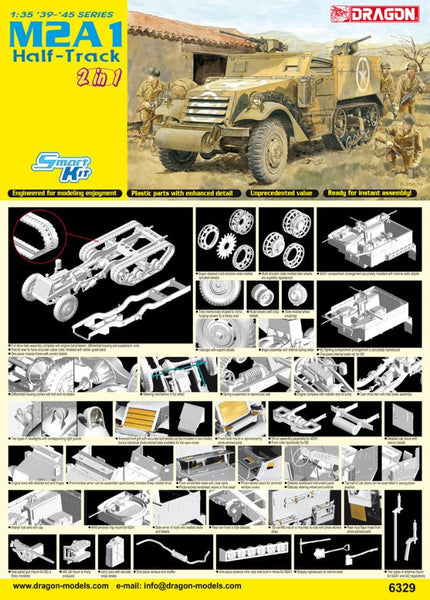 Dragon 1/35 M2A1 Half-Track | 6329
$ 35.87
SKU: 6329
The highly detailed kit is packed with special features and options, with widespread use of slide molds and photo-etched metal components. In fact, it is a 2-in-1 kit, since the M2A1 can also be produced from the box contents.
There was a major difference between the M2 and M2A1 - the former had a skate rail for AA machine guns fitted around the inner edge of the rear compartment, while the M2A1 eliminated the skate ring and had an M49 ring mount for a .50-cal machine gun located in a "pulpit" over the co-driver's seat. It also had three pintle mounts in the rear for a .30-cal machine gun. Either of these vehicles can be fully built up, since all necessary parts for both vehicles are included.
With the smallest nut and bolt detail beautifully replicated, the latest slide molds and photo-etched metal components utilized, it is the best 1/35th M2/M2A1 kit to have in your collection.

Main Features
Front:
- winch assembly especially for M2A1
- front roller specifically for M2
- two types of headlights with corresponding light guards
- armored front grill can be modeled in two modes; bonus individual photo-etched slates for the open mode
- engine hood with detailed bolt and hinges
- front window armor can be assembled open/closed; includes finely molded struts
- photo-etched visors for armored window covers
- detailed cab doors with interior details
- top half of cab doors can be assembled in swung-down position
- photo-etched windshield wipers in fine details
- engine complete with radiator and oil sump
- front windshield made with clear parts
- front hook mount is reproduced by photo-etched part
- jerry cans with delicate strap details
- sharply reproduced on-vehicle tools

Fighting Compartment:
- side armor of body with realistic bolts and details
- one-piece internal skate rail for M2
- M2 fighting compartment arrangement is accurately reproduced
- one-piece external mine rack with built-in mines for M2A1
- M2A1 compartment arrangement accurately modeled with internal radio details
- M49 armored ring mount for M2A1
- MG rail mount is finely produced
- detailed dashboard instrument panel
- delicate steering wheel and controls
- interior fuel tank with cap
- two types of antenna mount for M2 and M2A1 respectively

Rear:
- .50-cal MG mount is mounted to side with photo-etched strap
- rear tow hook is fully detailed
- rear mud flaps made from photo-etched parts

Tires and Tracks:
- tires intentionally shaped to mimic bulging caused by a heavy load
- hubcaps with superb details
- first kit ever to have accurate rubber track modeled with center guide band
- super-detailed multi-direction slide-molded sprocket wheels
- multi-direction slide-molded idler wheels are superbly reproduced
- bogie assembly with internal spring detail
- spring suspension is reproduced well
- road wheels with crisp details

Chassis:
- one-piece chassis frame with correct details
- full drive train assembly complete with engine transmission, differential housing and suspension units
- differential housing comes with bolt and rib details
- slide-molded wheel couplings
- steering mechanism in full detail
- one-piece exhaust and muffler
- dual drive train w/ disc brake assembly