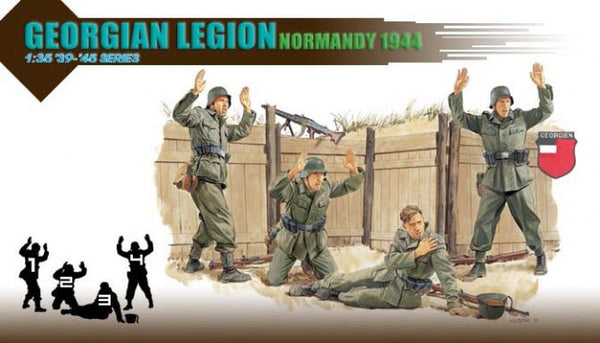 DEAL
Dragon 1/35 Georgian Legion (Normandy 1944) | 6277
$ 7.89
was $ 9.89
SKU: 6277
This four piece figure set features soldiers from the Georgian Legion who have been taken by surprise in an assault. Their trench system and positions are overrun, and there is no option left but to hold up their hands in surrender. Each is in a unique and lifelike pose.
Main Features:
- 4 figures
- Unique and lifelike poses
- Detailed and accurate sculpting
For these soldiers the war is over, but for the modeler, there are boundless vignette and diorama possibilities!
About the Georgian Legion:
Georgian Legion was the Wehrmacht's ethnic military legion formed by the Georgian e'migre's who were forced to leave their motherland after the Soviet occupation of the Democratic Republic of Georgia in 1921. The Georgian Legion was joined by former Red Army' volunteers' captured by the Germans and enlisted, while facing certain death from starvation, disease, forced labour and brutality, in POW lagers.
At least 30,000 Georgians served in the Nazi armed forces. Serving in the 13 field battalions, each having 5 companies and up to 800-strong, of the Wehrmacht's Georgia Legion, Georgians were also found in the Wehrmacht's North Caucasian Legion and in other Caucasian ethnic legions.
The Georgian Legion was commanded by Major General Shalva Maglakelidze.
Across Europe, especially in Italy and France, many Georgian soldiers in the German Armed Forces deserted and joined local Resistance Movements.