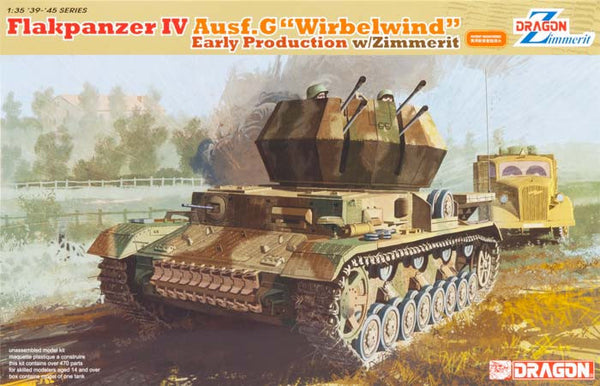 Dragon 1/35 Flakpanzer IV Ausf.G "Wirbelwind" Early Production w/Zimmerit | 6565
$ 55.19
SKU: DRA6565
Features: 
Brand new one-piece 40cm DS tracks 
2cm Flakvierling 38 cannon w/accurate detail 
Gun cradle offers great detail definition 
Gun sight and hand wheels w/well-defined detail 
Spent-shell cage made from photo-etched part 
Slide-molded one-piece gun barrel w/hollow muzzle 
Gun-sight cover can be assembled open/closed 
Cannon can be freely posed at different angles 
2-directional slide-molded turret for Wirbelwind w/realistic weld seams 
Scale-thickness fighting compartment armor has extra-thin top edge 
Ammo magazines inside turret w/great detail 
Turret ring accurately produced 
Gun mounting platform realistically produced 
One-piece lower hull made from slide molds 
Hull bottom has full and correct details 
Side fenders w/pattern detail on both top and bottom surfaces 
Injection-molded fenders made to thinnest possible dimensions 
Final drive housing w/details on both sides 
Separate armored cover for final drive housing 
Sprocket wheels w/breathtaking detail and multiple delicate parts 
Road wheels and suspension exhibit extreme details 
Idler wheels w/correctly detailed parts 
Injection-molded on-vehicle tools w/clasps
With Allied aircraft increasingly dominating the skies over Europe as WWII progressed, there was a need for more effective self-propelled antiaircraft guns for German forces. One solution was the Flakpanzer IV, a vehicle nicknamed Wirbelwind, or "Whirlwind" by the Germans. Development commenced in 1944 as a brainchild of Karl Wilhelm Krause, and the vehicle featured a quadruple 2cm Flakvierling 38 weapon system mounted inside a nine-sided turret. The turret was open-topped to allow fumes generated from the four cannons to dissipate. As can be imagined, the Wirbelwind was a quick-firing weapon, and it could also be employed against ground targets. A crew of five operated it. Approximately 100 of these 22-tonne weapons were produced on rebuilt or repaired Panzer IV tank chassis.