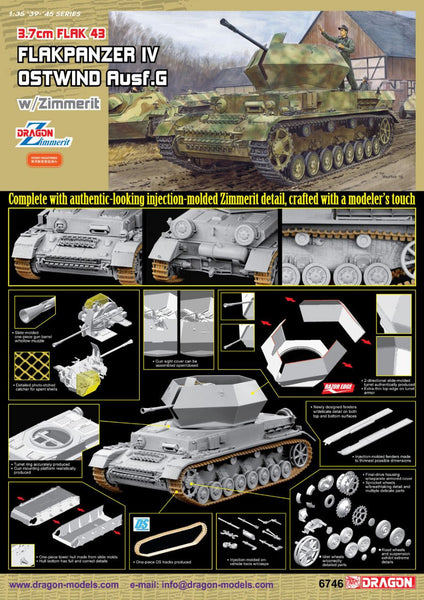 DEAL
Dragon 1/35 FlaK 43 Flakpanzer IV "Ostwind" w/Zimmerit | 6746
$ 46.99
was $ 65.99
SKU: DRA6746
Features:
Slide-molded one-piece gun barrel w/hollow muzzle
Detailed photo-etched catcher for spent shells
Gun sight cover can be assembled open/closed
2-directional slide-molded turret authentically produced
Extra-thin top edge on turret armor
Turret ring accurately produced
Gun machine platform realistically produced
Newly designed fenders w/delicate on both top and bottom surface
One-piece lower hull made from slide molds
Hull bottom has full and correct details
One-piece DS tracks produced
Injection-molded om-vehicle tools w/clasps
Final-drive housing w/separate armored cover
Sprocket wheels w/breathtaking detail and multiple delicate parts
Idler wheels w/correctly detailed parts
Road wheels and suspension exhibit extreme detail
With Allied aircraft increasingly dominating the skies over Europe as WWII progressed, there was a need for more effective self-propelled antiaircraft guns. One solution was the Flakpanzer IV/3.7cm Flak, a vehicle nicknamed Ostwind, or "East Wind" by the Germans. In August 1944 an order was placed for 100 Ostwind vehicles, with this vehicle featuring a more capable 3.7cm FlaK43 cannon mounted inside a hexagonal turret. The turret was open-topped to allow fumes to dissipate. The turret rotated 360 degrees, and the quick-firing gun could be used with equal devastation against both air and ground targets. A crew of six operated the 25-tonne Ostwind, and a total of 43 such weapons were produced mostly on rebuilt Panzer IV tank chassis.
Dragon has produced a fantastic 1/35 scale plastic kit of the Flakpanzer IV Ostwind. Owing to the turret being open-topped, all the relevant details on the gun and inside the turret are well represented. The cannon is particularly well defined and the barrel can be posed in any one of several different angles depending on whether the modeler has an aerial or ground target in view. The hull also carries a readymade Zimmerit coating that is masterfully represented. Inside the box, modelers will find many slide-molded plastic components. This latest kit from Dragon allows modelers to create the Flakpanzer IV Ostwind that was used by Flugabwehrzug (antiaircraft platoons) to protect units from marauding aircraft late in the war.