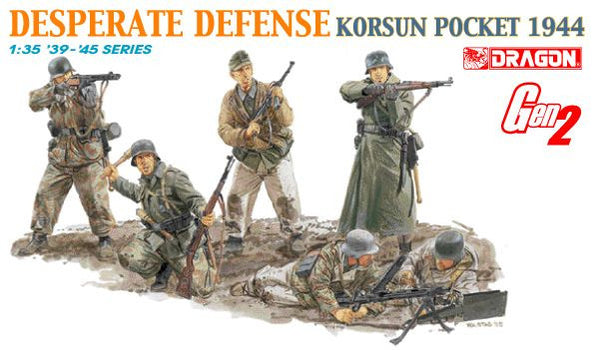 Dragon 1/35 "Desperate Defense" (Korsun Pocket 1944) | 6273
$ 11.69
SKU: 6273
Each lifelike figure strikes a vivid pose as they fight for survival against the Red Army. This sets six figures are clothed in a variety of late war uniforms and are armed with a range of weapons and equipment (made with Dragon Styrene). Each features separate hands, feet, collars and even photo-etched uniform and equipment parts. Each figures face shows a different sign of desperation with full detail.
Features:
- Includes 6 figures
- Hands and feet are molded separately 'V hands slip into hollow cuffs
- Slide-molded shoes with patterned soles and detailed uppers
- breathtaking detail never seen before in 1/35 scale
- Collar area has separate parts for multi-layer and overhang effects
- Photo-etched parts for shoulder boards, belt buckles, insignia and medals
- Each headsculpt delivers fantastic facial features
- Each head is separated in two halves, bisected at the helmet chin strap, this means no parting or joint lines and allows fully defined ears and helmet straps
- Newly tooled gasmask container, mess tin, and water bottle exhibit incredible detail and texture thanks to our slide-mold technology
- Newly tooled weapons with astonishing detail including a hollowed rifle muzzle (first time ever in 1/35 kits), separate parts for the bolt mechanism and accurate miniature ammo clips.
- Lower portion of their clothes are separate parts to give excellent detail
- Helmet with accurate details such as the rivet heads
- Upper torso separated into front and rear halves which allows full detail on the sides of body
About the "Desperate Defense":
The German defenders in the Korsun Pocket in Russia fought desperate pitched battles to avert annihilation during the long retreat back to the Fatherland. Fighting against overwhelming odds in 1944 they grimly hung on.