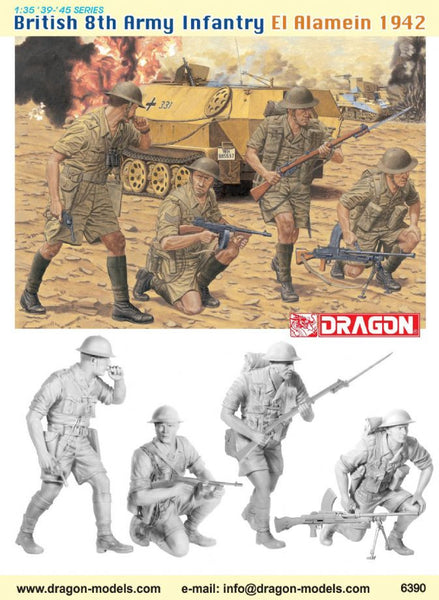 Dragon 1/35 British 8th Army Infantry (El Alamein 1942) | 6390
$ 11.69
SKU: 6390
One of the most famous British fighting formations in WWII was the 8th Army, which fought in the North African and Italian campaigns. Interestingly, it received its name from the fact that the French had previously fielded seven armies up to that point in WWII. Its fighting debut was on 17 November 1941 when it faced its nemesis Erwin Rommel for the first time. Under General Auchinleck, the 8th Army eventually halted the Afrika Korps at the First Battle of El Alamein, though the commander was to be replaced by Bernard Montgomery. It was under "Monty" that the 8th Army had decisive success against Rommel in the Second Battle of El Alamein (23 October – 5 November 1942), though at the cost of 25,000 Axis and 13,000 Allied casualties.
Dragon recently released a figure set of Afrika Korps soldiers fighting in the Battle of El Alamein, and now they are joined in combat by some opposing "Tommies". It's not every day that 1/35 scale British figures are released, so this brand new set of 8th Army infantrymen from Dragon will be a cause for wild celebration amongst figure and diorama modelers the world over! Indeed, these are Dragon's first ever figures to feature the 8th Army, and what figures they are! The four soldiers are ideally posed for a combat scene, and they possess a range of weapons including a pistol, Lee Enfield rifle, Bren machine gun and Thompson submachine gun. They are wearing desert uniforms and personal equipment customary for troops of the North African theater, and the detail on these figures is simply outstanding. Their sculpting is top notch and they are bursting with animated realism.
Not only are they ready to face Dragon's Afrika Korps figures on a miniature sandy tableau, but they would make a perfect companion to Dragon's new 1/35 scale Sherman III tank. The victory at El Alamein was a decisive moment in WWII, and it was orchestrated by two of the best commanders of war. Modelers can now recreate it with these exciting figures orchestrated by Dragon!