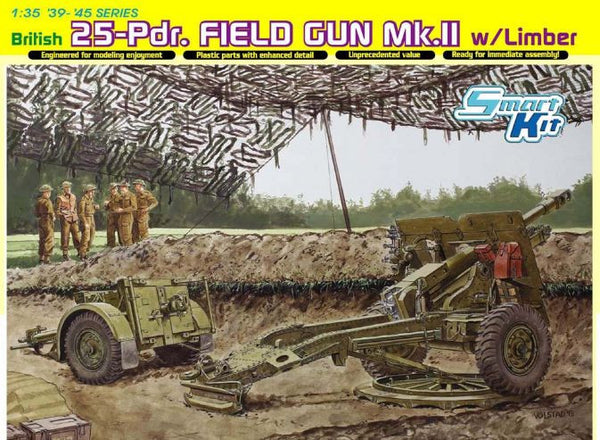 Dragon 1/35 British 25-Pdr. Field Gun Mk.II w/Limber | 6774
$ 42.39
SKU: DRA6774
Features: 
Optional firing or transport modes can be selected 
Authentically detailed circular gun platform 
Includes tool boxes on gun trails 
Newly designed side plates molded on field gun 
Newly tooled gun barrel with hollow muzzle 
Brand new 25-pdr field gun with limber 
Optionally detailed tow hooks 
Detailed limber doors can be assembled open/closed with provision for opened ammo trays
Gun cradle and hand wheels with well-defined details 
Name plates molded on side of gun trail 
Beautifully detailed slide-molded gun trails 
Crisp rivet details 
Components allow gun to elevate 
Moveable breech mechanism 
Gun can be set in full/partial recoil position 
Optional gun mountings included 
Nuts sharply represented on road wheels 
Tires made from DS 
Separate tools are fully reproduced 
Gun shield molded with rivet detail
Dragon earlier released a kit of the famous 25-pdr Field Gun (Item No.6675) and it was an instant hit. Now the British wave rolls on with a second kit showing a different variant of the ubiquitous artillery piece. Known officially as the 'Ordnance QF 25 pounder', it was the workhorse of British and Commonwealth field artillery units during WWII. The name came from the fact that the weapon fired a 25-pound shell, and "QF" stood for Quick Firing. The 25-pdr entered service in 1940, and many consider it the best towed field gun of the war owing to its high rate of fire, lethal shell and good mobility. A total of 13,000 guns were built worldwide, with the Mark II being the most common variant in WWII. For transport, the 1,633kg howitzer was usually hitched to an ammunition limber (known as the "Trailer, Artillery, No 27") containing 32 rounds.
Dragon is offering another fantastic 1/35 scale plastic kit of the famous 25-pdr Mark II Field Gun. Specific modifications introduced on Item No. 6774 are a brand new cradle and shield mounts. These components are embossed with accurately rendered rivet detail. The 1/35 scale miniature replica was carefully researched using original guns as references, thus giving the model unparalleled levels of accuracy. Not only is the gun precisely dimensioned and detailed, but as a Smart Kit it offers an excellent balance of easy assembly. Wherever possible, components are separated into as few pieces as possible via the widespread employment of slide-mold technology. Furthermore, the gun comes with its associated ammunition limber, which features two doors that open to reveal the interior ammo storage trays. The limber storage area is faithfully reproduced and extremely easy to assemble.