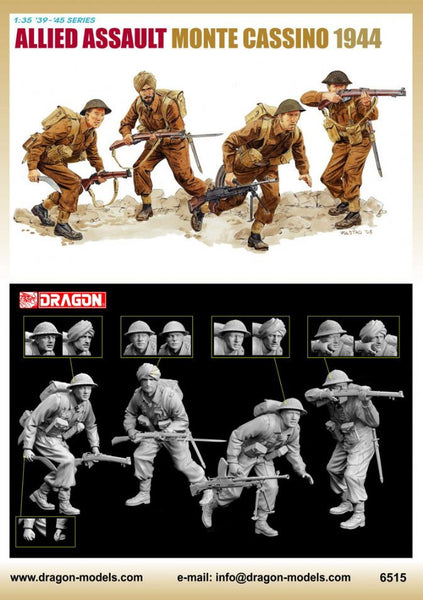 Dragon 1/35 Allied Assault (Monte Cassino 1944) | 6515
$ 14.39
SKU: 6515
Monte Cassino will be forever engraved in history as the site of intense fighting during WWII. The Battle for Cassino in fact comprised four separate battles fought between 17 January and 19 May 1944. German troops were defending the Gustav Line, while Allied troops were seeking to breakthrough in order to move north and capture Rome. The Allied force included American, British, Free French, Canadian, Polish, Indian and New Zealand troops, all of whom had a crack at breaking the German defense in the town of Monte Cassino and clearing the historic Benedictine abbey perched high up on a peak. The bloody conflagration resulted in 54,000 Allied and 20,000 German casualties before the Allies finally succeeded in capturing the Italian town.
Dragon's latest 1/35 figure set features Allied soldiers that fought in this famous Battle for Monte Cassino. In fact, it is a truly multinational release, for the set can be adapted to suit New Zealanders, Poles, Indians or Gurkhas. This cosmopolitan kit is unprecedented in Dragon figure sets, for it features three head options for each of the four plastic figures.
The remarkably sculpted head options include Caucasians, Sikhs and Gurkhas that allow figures from the four aforementioned nations to be represented according to the modeler's wishes. Examples of the four nationalities are portrayed on the box top. Uniform details and personal gear are the same since these soldiers had such items in common. The figures are shown in action poses as they advance through the rubble of ruined Monte Cassino in a brave assault, with figure details sharply defined and molded. Commonwealth subjects are often overlooked by kit manufacturers, but Dragon here provides a valuable addition of subjects participating in the Italian campaign.