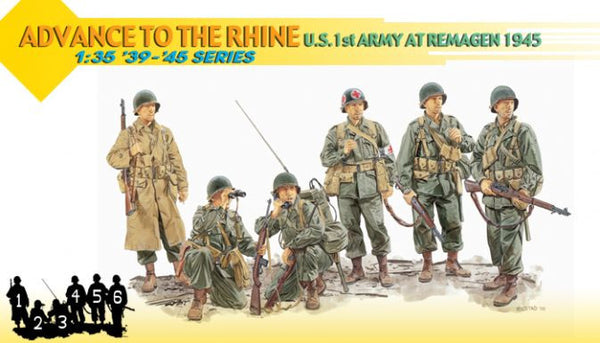 Dragon 1/35 "Advance To The Rhine" - U.S. 1st Army at Remagen 1945 | 6271
$ 9.89
SKU: 6271
This six piece figure set includes a unit commander, three rifleman, a radio operator and a medic. Each is in a unique and lifelike pose.
Main Features:
- Six figures
- Unique and lifelike poses
- Detailed and accurate sculpting
- Full assortment of gear for each figure (SCR-300 backpack radio for radio operator, Medical pouches for medic etc.)
About the Advance to the Rhine, 1945:
After the shock of the Battle of the Bulge in December, 1944, Allied forces continued their offensive into Germany in February 1945. In a series of grinding attacks, American forces breached the Siegfried line and crossed the Roer river. By early March 1945, Allied forces were poised along the Rhine river, Germany's last geographic line of defense. In a daring and now famous dash, an armored task force was to seize an intact bridge across the Rhine at Remagen. American infantry, such as those of the 1st Army, bore the brunt of the fighting in this campaign.