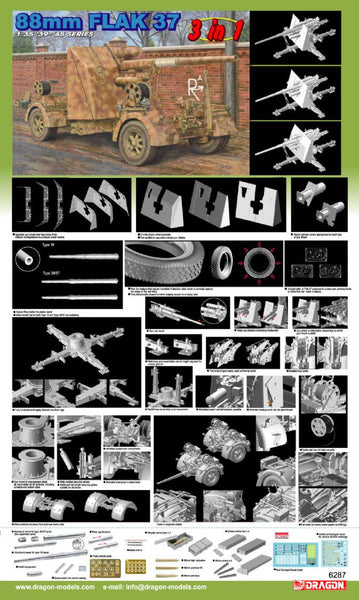 Dragon 1/35 88mm Flak 37 | 6287
$ 40.79
SKU: DRA6287
This new 3 in 1 kit is another spectacular release from Dragon. As usual no details have been spared, and many bonus features have been added. (the tires on this kit are even bulged to mimic the heavy weight of the Flak 37!) Check out the full list of features below.
Main Features:
- 3 in 1: three kinds of gun shield included
- two additional new slide-molded gun shields also included
- new tire designs that required incredible 8-direction slide molds to correctly capture the shape of the real thing
- tires intentionally shaped to mimic bulging caused by a heavy load
- typical meter of Flak 37 produced in a clear part with printing inside to reflect the real meter's display
- recoil cylinder covers appropriate for each type of gun shield
- separate gun shield side flaps allow three different configurations
- actual rifling inside the plastic barrels (metal barrels are also included)
- gun can actually recoil (recoil cylinders for each appropriate shield are also included)
- stabilizing jack assemblies can be adjusted for uneven ground
- right and left legs can be folded for transportation mode
- fully functional and highly detailed cruciform legs
- workable breech (shells can be inserted)
- armored viewing cover can be opened or closed
- slide molded securing spikes and additonal half-length spikes are included (suitable for dioramas)
- individual suspension components included
- workable tow bar is detachable
- slide molded one piece front and rear trailer pieces
- exquisitely detailed trailer
- cable reel is fully detailed and includes cable
- fully detailed braking system and fittings
Bonus items!
- metal recuperator
- metal equilibrators w/working mechanism
- aluminum type 18 barrel
- aluminum barrel for type 36/37 barrel (two separate parts)
- brass ammo x 3 types
- spent iron ammo casing
- Wooden ammo box x 2
- Wicker ammo box x 4
- 88mm ammo x 6 (high explosive, practice HE, anti-tank)
- photo-etched parts
- metal chains
- new Cartograf decals sheet
- additional Cartograf decal for various divisional markings
About the 88mm Flak:
The eighty-eight was used in two roles, one as a mobile heavy anti-aircraft battery, and also in a more static role for the defence of Germany. In this latter role the guns were arranged into large batteries, directed by a single controller, and were moved only rarely. Changes for the FlaK 36 improved mobility at the price of weight, so another set of modifications were made for this role, the FlaK 37. The FlaK 37 used a simpler and lighter trailer design, as might be expected, but also included additional instrumentation to allow the gun layers to more easily follow directions from the single director.