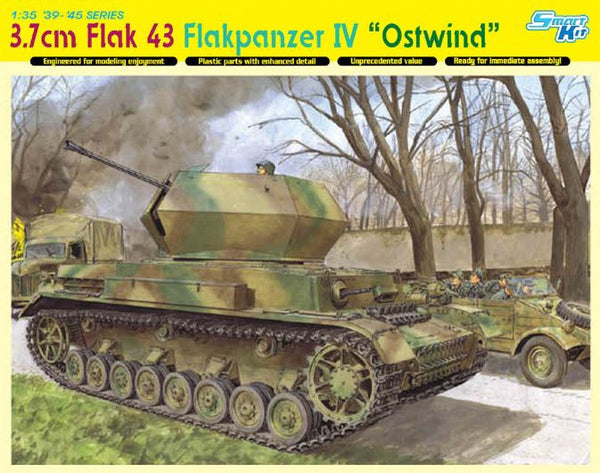 Dragon 1/35 3.7cm FlaK 43 Flakpanzer IV "Ostwind" | 6550
$ 53.59
SKU: DRA6550
Features:
Newly tooled photo-etched parts on turret


Slide-molded one-piece gun barrel w/hollow muzzle

Hatches on radio operator's housing can be assembled open/closed
Newly tooled 2-directional slide-molded turret for Ostwind
New scale-thickness fighting compartment armor has extra-thin top edge
Turret w/realistic weld seams
Gun-sight cover can be assembled open/closed
Great detail on newly tooled hull rear
Newly tooled spare barrel case included
One-piece upper hull
2-directional slide-molded w/new engine -deck design
Turret ring accurately produced
Delicate gun mounting platform
Spare-track brackets on glacis plate w/photo-etched and plastic options
Interior and fuel tank parts for Pz.IV
Hull reproduced w/internal detail
Spare-track brackets on front of lower hull
Photo-etched parts for engine-deck ventilation grill
Engine hatches can be assembled open/closed
Injection-molded fenders made to thinnest possible dimensions
Side fenders w/pattern detail on both top and bottom surfaces ;
40cm Magic Tracks are detailed on both sides
One-piece lower hull made from slide-molds
Hull bottom fully detailed 
Injection-molded OVM w/clasps
Extendable jack w/separate parts
Accurately detailed idler adjuster mountings
Road wheels and suspension w/multiple components exhibit crisp detail
Complete MG w/workable ball mount
Return rollers realistically reproduced
Idler wheels have detail parts
Final-drive housing w/details on both sides
Separate armored cover for final-drive housing 
Sprocket wheels w/breathtaking detail and multiple delicate parts
A major new 1/35 scale kit release from Dragon is the Flakpanzer IV Ostwind, which is a logical progression in Dragon's exciting range of Panzer IV variants. The Ostwind ("East Wind") was a self-propelled anti-aircraft system based on the chassis of the Panzer IV tank. The main armament was a 3.7cm FlaK 43/1 cannon mounted in a six-sided open-topped turret that could traverse 360". An order for 100 such vehicles was placed in August 1944, with such vehicles being necessary to counter enemy aircraft that freely roved the skies due to Allied air superiority.

Dragon's Ostwind kit is fantastically detailed. To be most useful to modelers, this kit represents a standard-production model. The hexagonal turret, called a "cookie tin" by German soldiers, is made by two-directional slide molds and features the correct scale thickness thanks to Dragon's Razor Edge technology. The turret also bears true-to-scale weld seams. The one-piece FlaK 43 gun with hollow muzzle is finely detailed and is produced by slide mold. The track links are 40cm Magic Tracks, specially designed for easy assembly and they come with full detail. Finesse is added with photo-etched components like engine-deck ventilation grills. This kit uses Dragon's phenomenally detailed Panzer IV kits as a suitable platform to show its true artistry. Whether displayed by itself or in an action-packed diorama, this high-aiming Ostwind will grab a lot of attention!