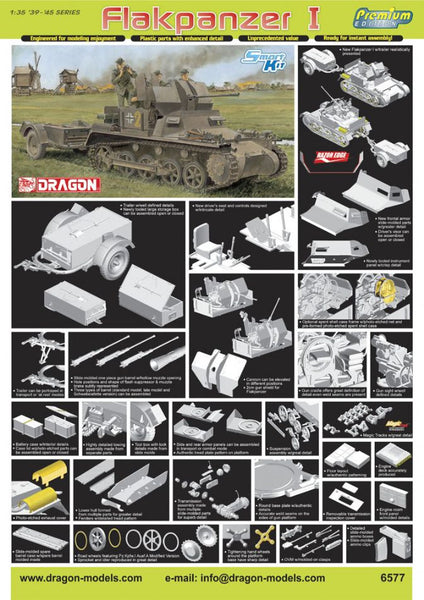 Dragon 1/35 2cm Flak 38 auf Pz.Kpfw.I Ausf.A Flakpanzer I | 6577
$ 34.39
SKU: DRA6577
Features:
- New Flakpanzer I w/trailer realistically presented
- New frontal armor slide-molded parts w/greater detail
- Driver's visor can be assembled open or closed
- Newly tooled instrument panel w/crisp detail
- Trailer w/well defined details
- Newly tooled large storage box can be assemebled open or closed
- Trailer can be portrayed in transport or 'at rest' modes
- Slide-molded one piece gun barrel w/hollow muzzle opening
- Hole positions and shape of flash suppressor & muzzle brake subtly represented
- Three types of barrel (standard model, late model and Schwebelafette version) can be assembled
- New driver's seat and controls designed w/intricate detail
- Cannon can be elevated in different positions
- 2cm gun shield for Flakpanzer
- Optional spent shell case frame w/photo-etched net and pre-formed photo-etched spent shell case
- Gun cradel offers great definition of detail-even weld seams are present
- Gun sight w/well defined details
- Battery case w/interior details
- Case lid w/photo-etched parts can be assemebled open or closed
- Highly detailed towing assembly made from separate parts
- Tool box with lock details made form slide molds
- Side and reat armor panels can be assembled in transport or combat mode
- Authentic tread plate pattern on platform
- Suspension assembly w/great detail
- Photo-etched exhaust cover
- Lower hull formed from multiple parts for greater detail
- Fenders w/detailed tread pattern
- Transmission assembly made from multiple slide-molded parts for superb detail
- Round base plate w/authentic details
- Accurate weld seams on the sides of gun platform
- Magic Tracks w/great detail
- Floor layout w/authentic patterning
- Engine deck accurately produced
- Removable transmission inspection cover
- Engine room front panel w/molded details
- Slide-molded spare barrel case w/spare barrel molded inside
- Road wheels featuring Pz.Kpfw.I Ausf.A Modified Verison
- Sprocket and idler reproduced in great detail
- Tightening hand wheels around the platform base have sharp detail
- OVM w/molded-on clasps
- Detailed slide-molded ammo boxes
- Slide-molded ammo clips

Even before WWII broke out, the lightly armed and thinly armored Panzer I tank was considered obsolete. Although the Pz.Kpfw.I didn't have a long combat history, its chassis proved suitable for uses other than those of a tank. One such use was the Flakpanzer I, a self-propelled antiaircraft cannon. It had the advantage of being armored and possessing cross-country mobility. The Sd.Kfz.101 Flakpanzer I was modified from Panzer I Ausf.A tanks by removing the gun turret and installing a single-barreled 2cm FlaK 38 gun. The engine deck and hull were modified as well. Only 24 such Flakpanzer vehicles were produced, and they were subsequently assigned to Fla.Bataillon 614(mot) in May 1941. However, all had met their demise by the end of the Battle of Stalingrad in 1943.
Dragon has reengineered its 1/35 scale Flakpanzer I plastic kit in a new Premium Edition variant. It builds upon the success of the previous kit, but it has received several important updates. These include an improved storage box, which reproduced with both internal and external details. This storage box fits on the Sd.Ah.51 trailer, a piece of equipment that was normally towed behind the armored vehicle. Plus the kit features a new driver's seat and controls in the driver's compartment.
In addition, the frontal armor has received the Razor Edge treatment to give it a true-to-scale thickness. Several photo-etched parts give greater realism, including a photo-etched exhaust cover and spent-shell cage on the cannon. To make the modeler's job easier, the kit employs Dragon's patented Magic Tracks. This overhauled kit offers everything the modeler needs to repel marauding aircraft!