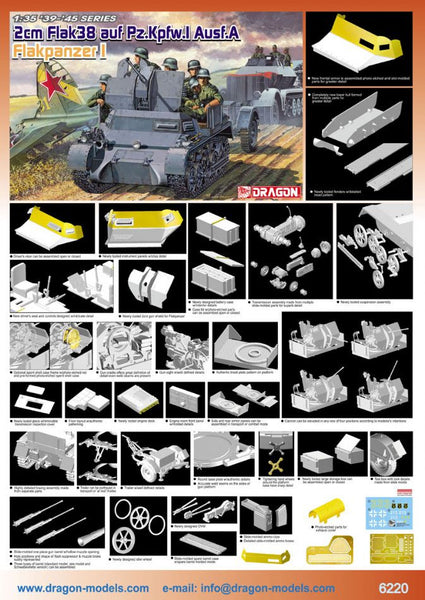 Dragon 1/35 2cm Flak 38 auf Pz.Kpfw.I Ausf.A Flakpanzer I | 6220
$ 39.99
SKU: DRA6220
This kit features loads of new parts including a completely new Panzer I chassis. See this list below for all of the excellent new features.
Main Features:
- NEW frontal armor is assembled photo-etched and slide-molded parts for greater details
- NEW tooled fenders w/detailed tread pattern
- Driver's visor can be assembled open or closed
- NEWLY tooled instrumental panels w/crisp detail
- NEW driver's seat and controls designed w/intricate detail
- NEWLY tooled 2cm gun shield for Flakpanzer
- NEWLY designed battery case w/interior details
can lid w/photo-etched parts can be assembled open or closed
- Transmission assembly made from multiple slide-molded parts for superb detail
- NEWLY tooled suspension assembly
- Optional spent shell case frame w/photo-etched net and pre-formed photo-etched spent shell case
- Gun cradle offers great definition of detail-even weld seams are presented
- Gun sight w/well defined detail
- Side and rear armor panels can be assembled in transport or combat mode
- Cannon can be elevated in any one of our positions according to modeler's intention
- Highly detailed towing assembly made from separate parts
- Trailer can be portrayed in transport or 'at rest' mode
- Trailer w/well defined details
- Round base plate w/authentic details
- Accurate weld seams on the sides of gun platform
- Tightening hand wheels around the platform base have sharp detail
- NEWLY tooled large storage box can be assembled open or closed
- Tool box with lock details made from slide molds
- Slide-molded one piece gun barrel w/hollow muzzle opening
- Hole positions and shape of flash suppressor & muzzle brake subtly represented
- Three types of barrel can be assembled
- NEWLY designed idler wheel
- NEWLY designed OVM
- Slide-molded spare barrel case w/spare barrel molded inside
- Slide-molded ammo clips
- Detailed slide-molded ammo boxes
- Photo-etched parts for exhaust cover
- NEW Cartograf decals
About the Flakpanzer:
Even at the outbreak of the Second World War, the German Pz.Kpfw. I was seriously outdated and outclassed. However, when an order was issued in 1941 for the production of a tracked anti-aircraft vehicle with armor protection, some of the small and elderly Panzer I chassis at last found a new outlet. A 2cm Flak 38 anti-aircraft gun was duly mounted on a Pz.Kpfw. I Ausf.A hull, and the Flakpanzer I was born! A total of 24 of these conversions were manufactured, and allocated to Fla.Bataillon 614 (mot.), a unit raised in 1941.