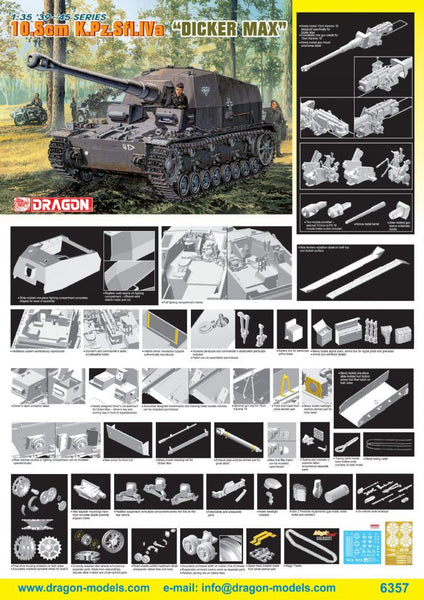 Dragon 1/35 10.5cm K.Pz.Sfl.IVa "Dicker Max" | 6357
$ 43.99
SKU: DRA6357
Because the Dicker Max is such a rare breed, and since there are no survivors, an enormous amount of research was required by the project supervisor, Mr. Thomas Anderson. The 1/35 scale model replicates the original vehicle as accurately as possible using all available references. Since this is an open-topped vehicle, no effort was spared in fitting out the interior of the fighting compartment with full detail. To realize this kit, slide molds were frequently employed to give maximum detail and yet keep assembly for modelers as simple as possible.
Features:
Gun
-Newly tooled 10cm Kanone 18 designed specifically for "Dicker Max"
-Completely new gun cradle for 10cm Kanone 18
-Newly tooled gun mount w/extreme detail
-Two muzzle provided - optional 10.5cm le.FH 18
-Slide-molded gun sleeve w/declicate detail
Fighting Compartment
-Slide molded one piece fighting compartment accurately shaped for ease assembly
-Realistic weld seems on fighting compartment (different weld detail inside and out)
-Hatch can be assembled open/closed
-Newly designed driver's compartment for "Dicker Max" - driver's bay and dummy bay in front of superstructure
-Optional gun rest for 10cm Kanone 18
-Accurately designed transmission and steering brake
-Side fenders w/pattern detail on both top and bottom surface
-New armor for front hull
Interior
-Full fighting compartment interior
-Scissors periscope and commander's observation periscope included
-Newly tooled signal pistol, ammo box for signal pistol and grenades
-Ammo box w/interior detail
Chassis
-Newly tooled one-piece slide-molded hull bottom w/new fuel filler hatch on both sides
-Track tool made from photo-etched part
-Newly tooled headlight w/photo-etched part for crisp detail
-Newly tooled cleaning rod for "Dicker Max"
-Exhaust pipe w/photo-etched part for great detail
-New fuel filler hatch can be modeled open/closed
-Final drive housing w/detail on both sides
-Metal towing cable
-Towing eye brackets in extreme detail w/separate parts
Suspension & Wheels
-Accurately modeled sprocket wheel
-Correctly detailed idler wheels w/numerous separate parts; made from astoundingly delicate slide-molded
and photo-etched parts
-Road wheels exhibit maximum detail w/separate rubber tires and hubs
-Suspension armored covers come as separate parts
Realistic parting line on rubber tires
Tracks
-Magic Tracks
-Spare track bracket made from photo-etched part
Other
Cartograf decal offers accurate marking

About the "Dicker Max"
In terms of rarities, they don't come much more unique than Germany's Dicker Max. The catchy sounding name actually translates as "stout Max", this being the name given to the prototypical tank destroyer mounting a long-barreled 10.5cm K18 gun. Only two vehicles were produced in 1941, both issued to the 521st Panzerja"ger Detachment for a proposed attack on Gibraltar. When this never eventuated, they were transferred to the 3rd Panzer Division and saw combat on the Eastern Front in 1941.