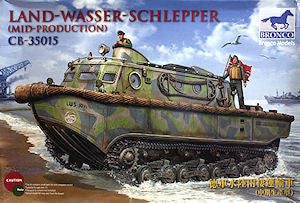 Bronco 1/35 Land-Wasser-Schlepper | CB35015
$ 79.99
SKU: CB35015
In 1936, Rheinmetall-Borsig AG received an order from the German army general staff to develop a fully-tracked amphibious tractor. After working with various other firms, the Land-Wasser-Schlepper was built. Powered by a Maybach HL120 V12 engine, the LWS could achieve 35km/hr on road and 12km/hr in water. The total weight was 17 tons and up to 20 soldiers could be accommodated.
The normal function of the LWS was as a tug boat to be used during amphibious landings. In this role the LWS would tow an 18.000 kg capacity floating trailer. This trailer could carry supplies and equipment, including vehicles as large as the SdKfz.9 halt-track. The trailer could be towed on shore by the LWS and maneuvered for unloading.
Development of the LWS proceeded quite slowly until 1940, when Operation SEELOWE (Invasion of England) was being planned. The seven pre-production LWS vehicles were extensively tested for amphibious assault across the English Channel. However testing showed that they could only be used in calm in-shore waters.
The lack of armor protection was also a concern. When SEELOWE was cancelled early in 1941 the LWS project was also ended. The LWS did serve in Russia and was employed during river crossings.