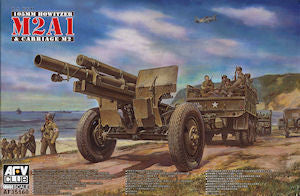 AFV Club 1/35 WWII 105MM Howitzer M2A1 & Carriage M2 | AF35160
$ 29.24
SKU: AF35160
The kit represents the standardised M2A1 105mm Howitzer with M2 carriage introduced in 1940 and saw the Howitzer remaining basically unchanged throughout WWII and beyond. The kit also includes an M2HB cal.50 machine gun mounted on the top recuperator cylinder for sub-calibre training but this was not used once the Howitzers went into action.
The only major upgrades were in the carriages, the initial production guns having the M2 carriage easily distinguished by the smaller single shields (with folding top sections) and civilian type automotive wheel rims and tyres. Refurbished (modernized) M2 carriages were also fitted with the combat wheels and tyres.
The later M2A1 carriage had a double shield arrangement with smaller front shield and larger rear shield that extended further out over the wheels with a lower folding flap that provided more protection for the crew. The other major feature is the use of the standard WWII combat rim and tyres.