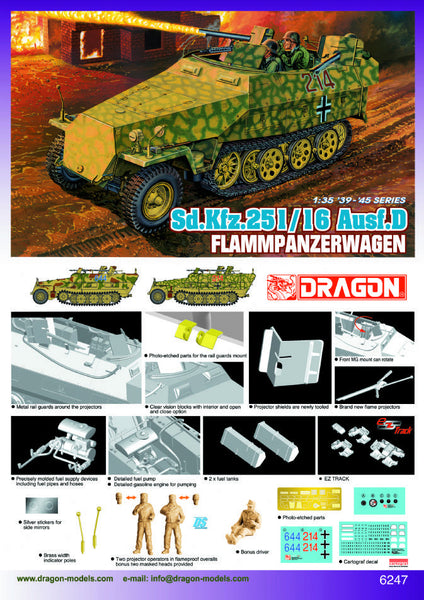 Dragon 1/35 Sd.Kfz.251/16 Ausf.D Flammpanzerwagen | 6247
$ 35.99
SKU: DRA6247
This kit features the Ausf. D version of the Flammpanzerwagen. It includes numerous NEW parts including the flamethrowers, projector shields, guard rails, decals and more!
Main Features:
- Newly tooled flame projectors
- Newly tooled projector shields
- Newly tooled metal guard rails around the projectors
- Photo-etched parts for the rail guards mount
- Precisely molded fuel supply devices including fuel pipes and hoses
- Fuel tanks x 2
- Detailed fuel pump
- Detailed gasoline engine
- Front & rear MG mount can rotate
- Clear vision blocks with interior and open/close option
- Includes Dragon's Ez tracks
- Brass width indicator poles
- Silver decals for side mirrors
- Additional Photo-etched parts
- Projector operators in flameproof overalls x 2
- BONUS masked heads x 2
- BONUS driver
- Decals by Cartograf
About the Sd.Kfz. 251/16 Ausf. D Flammpanzerwagen
The German Sd.Kfz. 251 proved to be a very versatile platform for a myriad of types of vehicles. One of these was the Sd.Kfz. 251/16, a flamethrower half-track intended for the close-support role. This vehicle carried two 14mm flamethrower projectors mounted either sides of the hull. The rear compartment also housed the 700-liter fuel tanks along the side walls, enough to permit around 80 two-second bursts with the Flammenwerfer. Interestingly, the range of these flame projectors was around 35m, depending on the direction of the prevailing wind.