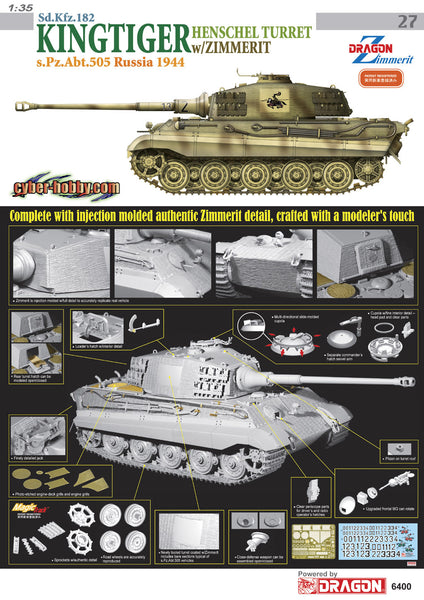 Dragon 1/35 Sd.Kfz.182 Kingtiger Henschel Turret w/Zimmerit s.Pz.Abt.505 Russia 1944 | 6400
$ 78.99
SKU: DRA6400
Supplies are limited, only a small quantity of this 1/35 Sd.Kfz. 182 Kingtiger Henschel Turret w Zimmerit s.Pz.Abt.505 Russia 1944 were released.
Cyber-Hobby items will have one production run only and there will NOT be a reproduction of this item. In another words, once it is sold out it will be gone forever! Cyber-Hobby Model Kits are OEM by Dragon Models, the same manufacturer that brings you the finest model kit in the market. These Cyber Hobby kits are officially known as the Master Grade Model by Dragon as they uses genuine Dragon parts, have a more obscured topic selection, uses special markings, and are normally loaded with bonuses. Furthermore, all Cyber Hobby Model kits are a small quantity limited production, and there will be one production run only.
FEATURES: - Zimmerit is injection molded with full detail to accurately replicate the real vehicle. - Loader's hatch with interior detail. - Rear turret hatch can be modeled open/closed. - Multi-directional slide-molded cupola. - Separate commander's hatch swivel arm. - Cupola with fine interior detail - head pad and clear parts. - Finely detailed jack - Photo-etched engine-deck grills and engine grills. - Sprockets with authentic detail. - Road wheels are accurately reproduced. - Newly tooled turret coated with Zimmerit includes bare sections typical of s.Pz.Abt.505 vehicles. - Close-defense weapon can be assembled open/closed. - Clear periscope parts for driver's and radio operator's hatched. - Upgraded frontal MG can rotate. - Pilzen on turret roof.